2020 Breakfast Games Celebrate Feeding Students' Bodies and Minds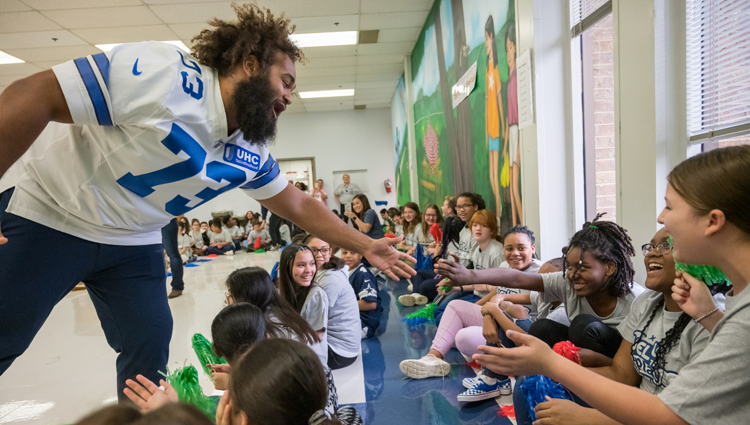 Each year during National School Breakfast Week, the most important meal of the day takes center stage as schools across the country celebrate the importance of starting student's days with fuel that feeds both their bodies and their minds.
This year Dairy MAX teamed up with two schools in Texas and one school in Louisiana to present the Fuel Greatness Breakfast Games, an interactive, Olympic-style event that highlights the importance of eating a nutritious breakfast every day, as well as participating in regular physical activity.
Short Elementary in Arlington ISD hosted the first event on March 2, where Dallas Cowboys Center Joe Looney and Dairy Farmer Mikayla Krause, of Krause Dairy, were the guests of honor. Before the games kicked off, Looney and Krause joined the Fuel Up to Play 60 student team for a healthy breakfast and visited with the students. Short Elementary serves Breakfast in the Classroom, and since implementing this model they have grown breakfast participation by 53%, meaning more students are starting their day prepared to learn.
"I didn't really learn about healthy eating until I got into high school," Looney said. "We can show these kids what to eat, the right foods to eat, to make them feel good and ultimately live a healthier life."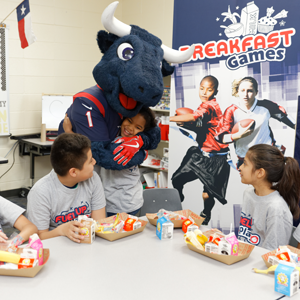 Breakfast in the Classroom was also highlighted during the Breakfast Games at Holbrook Elementary in Cypress-Fairbanks ISD on March 2. Former Houston Texans Player DJ Reader and Dairy Famer Landry Vieth of Pecan Oak Dairy led the Fuel up to Play 60 student team in a milk toast to kick off their breakfast, and later cheered them on during the events. Vieth's favorite part of the games was being a cheerleader for the students during the obstacle course.
"I had the blue team, and of course, my team won," said Vieth jokingly. "It was really great to interact with the kids."
To choose the breakfast games host school, Cypress-Fairbanks ISD participated in a Dairy MAX breakfast contest for 54 days. Students were obviously excited for the games – and Texans player visit – because at the end of the contest, an additional 111,000 school breakfasts had been eaten. Holbrook Elementary won the contest with an 18% increase in breakfast participation. But the real win was that more students were eating breakfast and fueling up for a successful school day.
National School Breakfast Week was capped off with M.E. Norman Elementary, in Morgan City, Louisiana, hosting the first ever Breakfast Games in the state. Part of St. Mary Parish Schools, M.E. Norman received the honor of hosting the game through winning a state-wide contest hosted by No Kid Hungry Louisiana, Louisiana Department of Education and the Louisiana Governor's office. The contest goal was increasing student breakfast participation – and out of 266 participating schools, M.E. Norman won by increasing their breakfast participation by 48% from October 2018 to October 2019.
Marcus Davenport of the New Orleans Saints and Dairy Farmer Stewart LeBlanc were the VIPs during the games, connecting with the students over a breakfast in the classroom before the competition began. Davenport spoke to the students about eating a healthy diet, including low-fat dairy, and the importance of being active for at least 60 minutes a day.
"Breakfast is important to start off your day," Davenport said. "Get the right nutrients in your body…It doesn't matter if it's cereal or yogurt, you just need something to start you off with a good nutritional base for your day."
As part of FUTP60 and National School Breakfast Week, the Breakfast Games create a fun atmosphere to empower students with nutrition knowledge and help influence them to make positive nutrition decisions. To learn more about Fuel Up to Play 60 and get started at your school, find your wellness consultant here!