Empowering Students to Do Great Things with Fuel Up to Play 60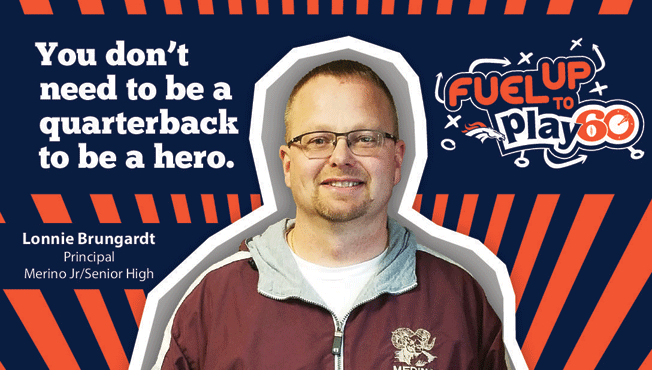 One of the best things about the Fuel Up to Play 60 program is its ability to foster student leaders. The program advisor Lonnie Brungardt says the impact on student leadership is definitely a standout feature for his school.
"If you empower students they'll do great things. Fuel Up to Play 60 provides an opportunity to make students better," said Brungardt, principal at Merino Jr./Sr. High School. "When they grow into leaders, you can see the spark in their eye."
Brungardt loves to see his students blossom into leaders. The leaders at his school have given other students the inspiration to make better, healthier decisions for themselves and their families.
One of the standout leaders from his school, Kaylynn, has made a lasting impression on Brungardt; her success as a leader is something he will never forget. He remembered her starting out as a quiet individual at the school and watching her grow as a person through the program.
"Kaylynn attended the Student Leadership Summit in Indianapolis, and the leadership skills she learned were incredible," reflected Brungardt. "I also got to see how proud Kaylynn's dad was of his daughter during the Fuel Up to Play 60 game. Those types of things are truly the highlights of the program."
Brungardt hopes to see all the student leaders from his school get involved in the program at more than just a school level – he wants to see them get involved across the district and beyond. He believes the knowledge and leadership skills they've learned through Fuel Up to Play 60 can help make decisions for the whole district and the community of Merino.
"Because Fuel Up to Play 60 empowers students and gives them an opportunity for leadership they may not have in other activities, it gives them the chance to be part of a team, have a voice and let them come up with the ideas and implement things adults might not think of," Brungardt said.
This past school year, with the help of Brungardt and their food services department, the student leadership team implemented plays at the school that allowed their fellow students to eat breakfast before class and participate in physical activity breaks – which have both impacted the school in a positive way.
These two simple changes, along with the positive role modeling of the student leadership team, resulted in less referrals to the office and has students up and moving around.
There is no doubt that student leaders are the heart and soul of the Fuel Up to Play 60 program, but the student leaders wouldn't be able to do what they do without the help and guidance of great program advisors. We would like to thank Brungardt for all his hard work and dedication to the program and the success of his students!