Get Closer to Touchdown Status with the Breakfast Games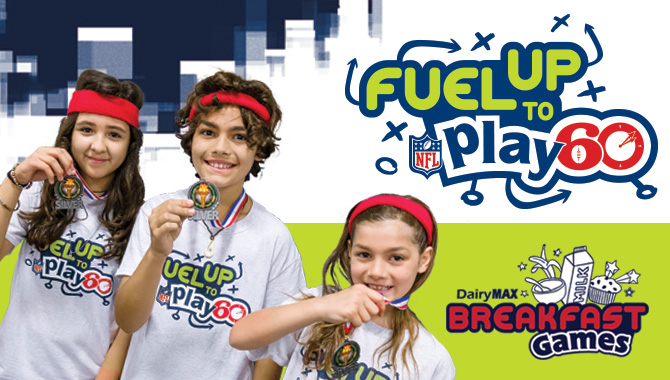 Here's a fun event that makes it easy to complete 2 Touchdown steps in the Fuel Up to Play 60 program: the Breakfast Games!
The Breakfast Games is an interactive event that gets your students moving and increases participation in your school breakfast program. This event was previously only available to select Fuel Up to Play 60 Touchdown schools as part of our rewards program, but it's been such a hit that we decided to package it up to offer to any Fuel Up to Play 60 school that's in the Dairy MAX region and has a breakfast program – for free.
FUN. Teach your students about the power of breakfast to fuel their school day.
The event revolves around an indoor obstacle course in which three teams of students compete while their classmates cheer them on.
We also encourage you to invite local leaders and celebrities such as star high school athletes.
We provide materials and scripts to help you weave a nutritional message throughout.
EASY. The free downloadable kit includes easy step-by-step instructions.
Plan it with a sample timeline, editable event script and suggestions for obstacle course equipment.
Promote it with printed posters, idea sheets and more.
TOUCHDOWN FRIENDLY. Check off both your Healthy Eating Play and your Physical Activity Play at once.
Request the Breakfast Games Campaign Kit
Not a Fuel Up to Play 60 school? Learn more and join in here.