Program Advisor Advances District Health by Sharing Fuel Up to Play 60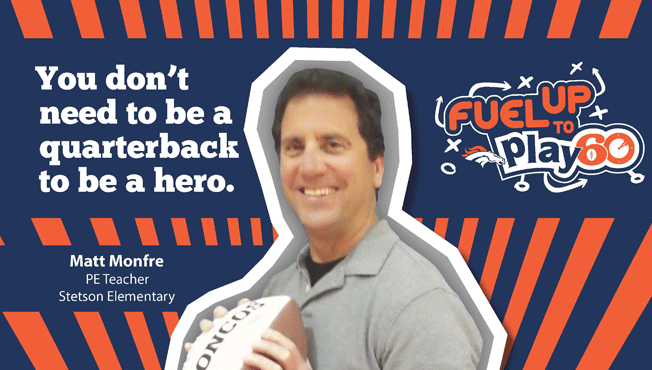 Matt Monfre has been helping students learn about health and be physically active with Fuel Up to Play 60 since the program began in 2009. He has helped at least 2 districts get involved and in his current district, Falcon 49 in Colorado Springs, Colo. he has signed up 3 elementary schools and 1 middle school for the program.
"Students can learn about being healthy at any age and Fuel Up to Play 60 is a good program to get them started in that direction," explains Monfre. "Plus, being able to educate kids means they can go home and educate their families about the importance of eating healthy and being physically active."
For Monfre, a PE teacher who has a family history of heart disease, helping others learn to live better is a personal mission and passion.
"This program's been a worthwhile one to promote a healthy lifestyle because it gets students of all ages involved in a friendly and fun way for them to learn to communicate with others about healthy lifestyles," says Monfre.
This year, Monfre got his student team involved in the Fuel Up Your Community play. Students helped collect food for the Harvest of Love food drive in the fall and they enjoyed it so much, they went back to volunteer at the food bank again this spring, where they packed 13,500 pounds of food to go out to local agencies.
"This program has really impacted the kids – they are more willing and accepting to try new things. We did the Harvest of Love food drive and the kids go to a store location to work and they had to use communication skills to ask customers if they'd be willing to donate to the drive," says Monfre proudly.
The school also worked on improving indoor recess this year, continues to revamp recess with playground stencils and classroom teachers work hard to incorporate activity breaks during the day.
"There's a lot of involvement in the school level with parents and students and teachers doing a really good job promoting physical activity," says Monfre. "We also continue to work on snacking smarter and distribute smoothies and bananas for afternoon snacks."
Monfre's biggest challenge is getting his student team together during the school day, there's no common time when he can pull them together for meetings so the group meets once monthly after school instead. His persistence has paid off as the school sees lots of healthy changes becoming habit for students. A well-stocked salad bar, students bringing veggie trays to class parties, participation in walking clubs, garden club and bike to school days are all great results of his efforts. Stetson has also been awarded the Health School Champion award 4 times and the Let's Move Active Schools National Award.
"I was just at an elementary PE teacher meeting and another teacher was asking me about this program, I told him, you have to give it a shot – it's a great opportunity to build and craft future student leaders, plus it's fun and exciting," says Monfre with a smile. "It's just a great opportunity for students."
Ready to get started with the program at your school? Click here.