Rave Reviews for the Fuel Up to Play 60 Excellence Awards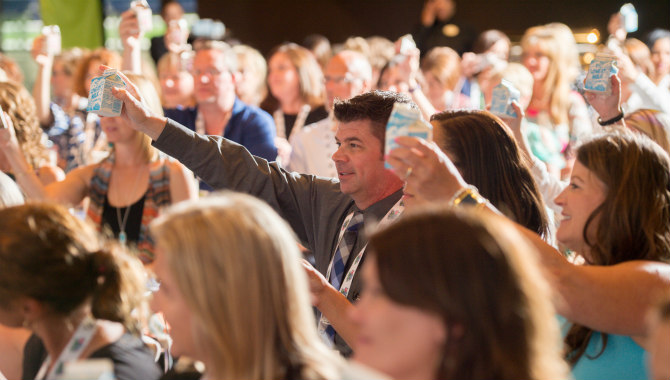 Don't miss out on Dairy MAX's biggest event of the year: the Fuel Up to Play 60 Excellence Awards! At the end of the school year, Fuel Up to Play 60 leaders across the state of Texas will come together to celebrate the year's greatest school-wellness achievements in style. Thanks to the hardworking dairy farming families of Texas, Oklahoma, New Mexico, and southwest Kansas, Dairy MAX is delighted to recognize and reward your successes at these fun and engaging local events for the third year in a row.
But don't take it from us! Hear from last year's Excellence Awards honorees.
"What a phenomenal night! To witness the outstanding work of all the nominees and award winners was extraordinary; it was awesome to see the range of successful programs and activities that are happening at schools in this area. The setting and atmosphere of the stadium was incredible, the organization on your end was excellent and I had the best time! I just wanted to say a big thank-you to Fuel Up to Play 60, Dairy MAX, and the Dallas Cowboys for hosting this event and I can't wait until the 2017 ceremony."
Jamee Little
Chandler Elementary, Allen ISD
"Thank you all for all the work you did to make the awards banquet a success. I appreciate all the support you give us. Seeing all the pics, I am even more motivated to grow our program."
Ann King
Westchester Academy for International Studies, Spring Branch ISD
"It was a great honor to get recognized for the Best Physical Activity Play Award last year! It showed our kids that they can come up with workouts on their own. The students were able to use the fad dance moves from songs and incorporate other workout moves. We showed them that they were able to make working out fun! To new Program Advisors: Think outside of the box and make working out as fun as possible for the kids. It is our job to teach students about being physically active and having fun while doing it."
Hannah Garza
Yarbrough Elementary, Midland ISD
"The FUTP60 Excellence Awards were a great chance to mingle with peers in the DFW area doing great things for students – my principal attended with me and was thrilled to meet and take photos with Dallas Cowboys tight end Gavin Escobar. If the awards phase hadn't been soon after, I'm not sure I could have gotten her to come off the field! What a fun evening – we look forward to this year's as well!"
JT Mistr
Pink Elementary, Frisco ISD
"The end of the year FUTP60 awards dinner is so much fun! You are able to mingle with people with the same goals when it comes to health and fitness. The dinner is very nice, and there is usually a celebrity football player present who gives a short speech filled with motivation, and you get to take photos with him. There are nice door prizes, too. You leave the event with encouragement and motivation!"
Terri Pitts
Colonial Hills Elementary, North East ISD
Get recognized – and win Super Bowl tickets
Once you've completed your Six Steps, fill out this form to tell us about your success. It'll put you in the running for various awards at the dinner, as well as tickets to Super Bowl LII in 2018! Here it is again: Enter to win.