Did you know that milk cartons make up at least 50% of a school's lunch trash volume? Cartons, along with milk waste, have long been an area of concern in school nutrition. That's where Bulk Milk comes in. Bulk milk dispensers are an innovative, sustainable way to serve students the milk they need while decreasing waste and increasing consumption.

Benefits

Increased Student Participation – Studies show that bulk milk dispensers increase milk consumption compared to traditional cartons.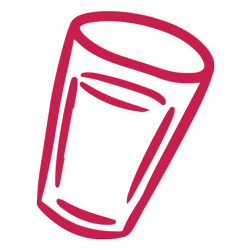 Decreased Waste – Bulk Milk helps schools see a 91% decrease in milk packaging waste by volume.

Cost Savings – On average, bulk milk bags cost less than individual milk cartons.
How Does It Work?
Bulk milk dispensers hold milk at a consistent, chilled temperature that naturally improves its taste and flavor. Instead of cartons, milk is served in reusable cups so students can take whatever amount they want – decreasing the cartons and milk waste in trash cans. Students also enjoy the novelty and freedom of serving their own milk and mixing flavors.
How to Get Started
Dairy MAX is here to help – from planning and equipment to implementation and follow up, we have the tools and expertise to ensure your success.
Contact your School Wellness Consultant or check out our Bulk Milk One Pager.