At Achieve Academy, Fuel Up to Play 60 Gets Everybody Moving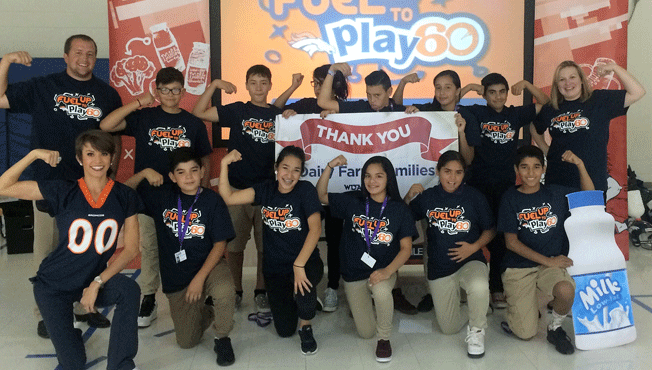 At Achieve Academy, everybody is getting up and moving thanks to the Fuel Up to Play 60 program. 
Program advisor and sixth-grade teacher Samantha Richardson wanted find a way to improve health and wellness at the school, and she knew it would be a great way to make changes because Fuel Up to Play 60 involves both choosing healthy foods and participating in physical activities.  
"This program is a great way to get kids motivated about being healthier and being more active," said Richardson. "Plus, I liked the student leadership aspect." 
In an effort to get everyone up and moving (not just the students), the school recently hosted students vs. teachers volleyball and kickball games and invited parents to join in. If they joined, parents played with teachers, making the game adults vs. kids. Students loved the games and the entire community was involved, garnering more support for the program and helping Richardson continue to improve wellness at the school.  
"We had outstanding participation with older grades, and the younger grades and came and cheered for the respective teams," said Richardson. "The Fuel Up student leader team planned it like a tournament, so sixth grade played seventh grade. The winner played eighth grade, and the winner of that game played teachers. We graciously lost by a landslide!" 
The school started the program just this past school year and kicked it off with a Miles Assembly. They also received a FLAG Football Kit – which has proven to be a huge asset. They use it during recess, and during gym, and the students set up a flag football bracket in the fall. The Fuel Up leadership team also chose activities for field day for the older students, and helped at the stations for the younger grades. 
Richardson was excited to help students start making healthier snack choices since she had seen many unhealthy snacks during her time at the school. Richardson knew that by giving students the resources and knowledge they needed to truly understand what good nutrition does for them, she could reduce the amount of unhealthy snacking at her school.  
There has been an immediate positive impact in the school since starting the program, particularly with the student leaders, who are seventh and eighth graders. The students taking part in leadership and responsibility roles feel empowered to do things to improve their school. They serve as role models for younger students too, taking time to show others how the Fuel Up to Play 60 website and dashboard work and how the program can help them be healthier in general. 
"Since starting the program, students are excited and ready to make healthy eating choices," exclaimed Richardson. "More students have turned out for middle school sports than ever before, more students are eating breakfast and we can see that kids are making healthier choices by how they choose their snacks." 
There is no doubt that Richardson has set her school and students up for success. She hopes that the Fuel Up to Play 60 program will help the students continue to get active every day and continue making healthy food choices.  
"I'd like to give a huge thank you to the dairy farmers for creating and funding a program that gives kids opportunities that they may not otherwise have to be healthier or more active," Richardson stated. 
Last fall, Richardson had the opportunity to start from scratch and get a whole new group of students involved in Fuel Up to Play 60 when she transferred to Valley View K-8. With the success she saw at Achieve Academy, Richardson knows the Fuel Up to Play 60 program will positively impact her new students. 
"I am so excited about the opportunity to help introduce this program to a new group of students and get them excited about being active and making healthy choices. It's going to be a fun experience for all of us!"