Bringing Dairy Edu-tainment to the Future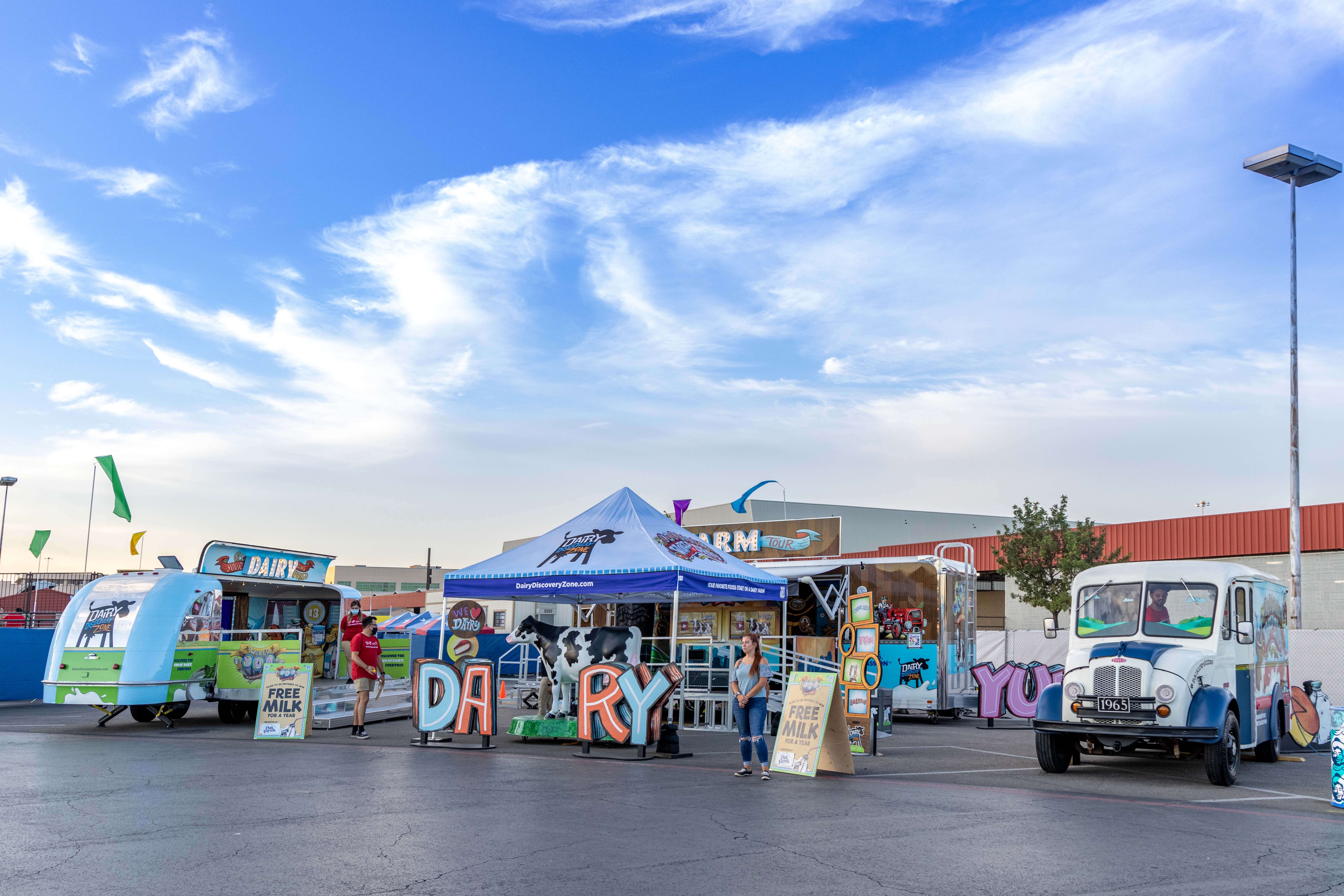 Revamped Dairy Discovery Zone Exhibit Launching At State Fair of Texas
A lot can happen in 10 years. We have new approaches to almost everything in our daily lives. We are spending on average over three hours a day on social media, doing most of our shopping online and asking virtual assistants questions like what the weather will bring. In that time Dairy MAX has also been evolving how we meet the changing consumer not only where they are, but where they are headed.
In 2010 the Dairy Discovery Zone was created to connect with consumers in-person at large events like fairs and stocks shows to dispel myths about where their food comes from. The first exhibit debuted at the State Fair of Texas and reached 53,000 consumers in its inaugural year. Since then, Dairy MAX has found new ways to continue reaching visitors of the exhibit through social media outreach and email newsletters, providing #DairyAmazing content like recipes and dairy farmers stories.
Since the Dairy Discovery Zone debut the exhibit has reached over 2.4 million visitors at venues like New Mexico State Fair, State Fair of Texas, San Antonio Stock Show and Rodeo, Rodeo Austin and National Western Stock Show. 60,000 students have gone on school tours of the exhibit experiencing what it's like to milk Maybelle the animatronic cow, test their strength with the "farm arm" or use the interactive photo booth. But most importantly, urban consumers have learned about hardworking farm families and what goes into getting nutritious dairy from farm to table.
"Over the past 10 years, we've had the chance to interact with over two million guests through the Dairy Discovery Zone," said Kaci Creel, vice president of corporate communications for Dairy MAX. "Our exhibit gives us the first-hand opportunity to answer questions and share the love and passion dairy farmers have for their cows, their land and the people they are providing food for every day." 
As the Dairy Discovery Zone has grown, so have opportunities for the exhibit to visit new events across Dairy MAX's eight-state region. And for a new influential generation of consumers, Gen Z, it is more important than ever to provide memorable experiences to help them feel part of the process of where their food comes from. About 38% of Millennials and Gen Z prefer experiences and events over traditional marketing tactics.
The shift in consumer preferences, coupled with event restrictions due to COVID-19, led Dairy MAX to embark on a revamp of the Dairy Discovery Zone that allowed more flexibility, event coverage and amplification of the dairy story.  
"When we are only open 75 days a year, we must look for opportunities for growth," said Creel. "We needed to maximize our opportunities to participate at more venues, grow existing relationships and build new partnerships. This required us to reimagine and grow our fleet of exhibits to meet the needs of our entire Dairy MAX region."
The new Dairy Discovery Zone includes three interactive components – a farm experience that gives recognition to the hard work of dairy farmers to provide a safe and sustainable food, a YUM experience sharing the enjoyment of dairy and a the journey of milk experience housed in a vintage milk truck. 
Each area features a digital video game that provides visitors a chance to build their own dairy farm, go through the stages of milk from the farm to your table or learn about more animal care.  These new digital games cater to the growing interest in gaming (nearly 81 million people in the U.S. that consider themselves gamers).
Highlighting dairy's sustainability story continues to be a priority, as 85% of consumers expect companies to invest in sustainability in the next year. The look and feel of the exhibit, in addition to messaging, was tested through consumer focus groups to make sure it resonated with Gen Z and Millennial parents (and prepares for future Generation Alpha consumers). 
"We are excited to bring the Dairy Discovery Zone to the future and reach even more consumers than before with updated experiences and visuals that resonate best with the next generation," said Creel.
The new Dairy Discovery Zone will be unveiled at the State Fair of Texas from September 24 to October 17 and will include a partnership with Oak Farms Dairy and celebration of National Farmer's Day on October 12. To learn more about the exhibit or how Dairy MAX is reaching consumers, visit DairyDiscoveryZone.com.