Bringing Dairy Farming to Fairgoers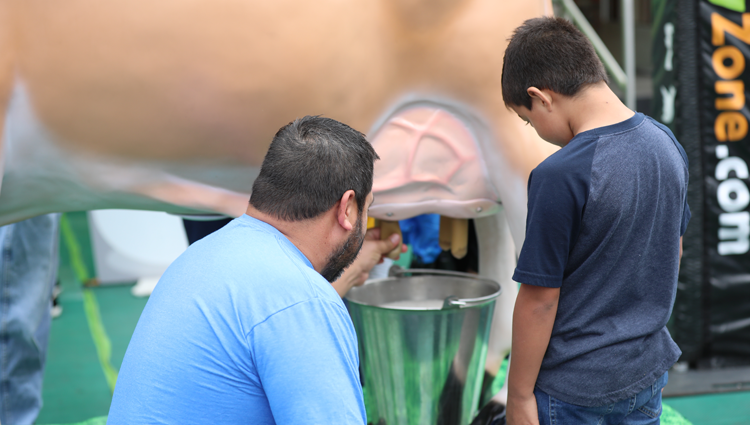 When state fairs first began, most fairgoers were directly connected to agriculture. Today, the opposite is true. Dairy MAX is stepping in and connecting fairgoers to dairy farming through their traveling interactive dairy exhibit, Dairy Discovery Zone.
"We were looking for a way to connect directly with consumers who are now three and four generations removed from the farm," says Kaci Creel, Dairy MAX's vice president of communications. "Having the Dairy Discovery Zone at fairs and stock shows across our region allows us to help tell the story of what happens on a farm, how dairy farmers care and the process milk goes through to get dairy foods from the farm to homes and tables throughout the world."
While the exhibit is educational, it is also all about fun, making it a great fair activity for fairgoers to participate in. In the outside footprint of the Dairy Discovery Zone, visitors will meet animatronic cows Maybelle or Bella and see what it is like to milk a cow. Visitors can then test their strength with the farm arm or take a fun photo in a free photo booth. 
As visitors walk inside the exhibit, they will hear an audio track sharing what takes place on a dairy. The entire farm to table story is covered, from what cows eat to how they make milk and the steps taken to get it from the farm to the grocery store. Visitors will also learn the importance of dairy's role in MyPlate and have the opportunity to play interactive games all about the world of dairy.
"Over the past 10 years, we have had the opportunity to interact with over two million guests through the Dairy Discovery Zone," says Creel. "There are more misconceptions about dairy than one might imagine and the Dairy Discovery Zone gives us the first-hand opportunity to answer these questions, provide peace of mind to consumers and share the love and passion dairy farmers have for their cows, their land and the people they are providing food for every day."
Dairy Discovery Zone has already had a busy fall season traveling to the New Mexico State Fair and the entire 24-day run of the State Fair of Texas. The Colorado State Fair, Oklahoma State Fair and East Texas State Fair also had static Dairy MAX booths and activities similar to the Dairy Discovery Zone. 
Fairgoers at the State Fair of Texas connected with dairy farmers in-person when the fair celebrated National Farmer's Day on October 14. Through a partnership with Dallas-based Borden Dairy, two local dairy farmers from Dublin, Misael and Ellisa Tiscareno, were onsite to introduce fairgoers to the world of dairy firsthand. 
"With National Farmer's Day taking place during the State Fair, we decided to take this opportunity to showcase life on a dairy and provide fairgoers the chance to stop and take a milk break with two local dairy farmers that supply Borden Dairy with milk," says Creel. "We know from research that over 70% of people want to meet a farmer. Although the Dairy Discovery Zone provides photos, examples and interactive stations all about the world of dairy, there is no substitute for meeting a farmer personally." 
National Farmer's Day was also celebrated with face painting, special giveaways and selfies with Borden's Elsie. The Dairy Discovery Zone at the State Fair of Texas is located at a premier spot near the south entrance making the exhibit one of the first things fairgoers see when they come into the grounds. The opening weekend alone reached 5,600 fairgoers, and the one-day National Farmer's Day celebration had 2,000 engagements. 
"These venues, like fairs and stock shows, allow us the largest opportunities to connect with people and have fun with their families," says Creel, "but most importantly sharing the world of dairy with them, answering questions they may have and dispelling myths they hear from friends, family or the internet. There is no better way to understand where your food comes from than straight from the source itself."
To learn more about the Dairy Discovery Zone or to see upcoming tour dates, click here.