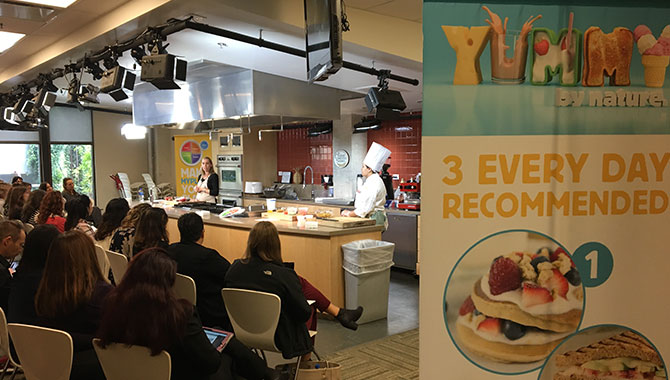 The fourth annual #DairyAmazing Symposium brought more than 50 health professional thought-leaders and bloggers together to feature the latest dairy nutrition research and dairy's role in a healthy lifestyle.
Held in San Antonio at the Culinary Institute of America, the #DairyAmazing Symposium is the premier educational event focusing on the latest trends using dairy in cooking with a health and wellness focus. In addition to spending time in the kitchen with recipes and cooking demonstrations, participants learn more about dairy's story from farm to fridge, and get to interact with a local dairy farmer. The goal is to build a group of dairy advocates armed with science-based facts who will promote dairy in their professional and personal lives, extending the #DairyAmazing message to more consumers.
"The Dairy Amazing Symposium allows us to reach those who talk food, nutrition and wellness in their daily lives; whether that's through a blog, consultation, in their office or interacting in a setting that is fun and educational," says Lana Frantzen, PH. D., Dairy MAX spokesperson and vice president of Health and Wellness. "These professionals and bloggers then go and share what they've experienced and become advocates and influencers for dairy."
This year, Dairy MAX extended invitations to health and wellness bloggers for the first time. Recognizing the importance of online conversations of food choices and discussions about where food comes from, Dairy MAX is working to bridge the communication gap with positive influence and science-based facts about the role dairy has in the diet.
"We set objectives prior to the symposium, which included measuring our online amplification and specifically social media reach," Frantzen says.
Participants were not only challenged to share the message once they returned to work, but also during the event through their social media channels. For the two days, more than 600,000 social media impressions were achieved, garnering 163,000 more impressions than 2016 – extending the #DairyAmazing message to the public.
The two-day event helps build a foundation of dairy facts while highlighting great tasting food and the unending ways dairy can be incorporated into recipes. The symposium starts with classroom sessions dissecting facts from myths of nutrition headlines and fads. From there, participants learn in-depth the unique nutrition advantages dairy provides. Experts offered culinary tips and tricks how to incorporate dairy and make substitutions to recipes for a healthy plate.
Day two allowed attendees to get hands-on experience in the kitchen while tasting their creations, further solidifying the positives of cooking with dairy. Attendees were separated into dairy-inspired teams learning culinary principals using popular dairy foods from professionals. Some of the principals the six teams focused on were substituting yogurt in traditional recipes for lower-fat and added protein, and the use of low-lactose and lactose-free dairy foods, reinforcing the versatility of dairy.
In addition to the science-based facts and practical applications learned, participants had the opportunity to meet local dairy farmer Frank Volleman, from Wildcat Dairy. Volleman took the attendees on a virtual tour and through a typical day on his dairy farm, furthering the farm to fridge story and answering questions with farm images.
"All dairyman should take every opportunity to tell their story," said Volleman. "People believe dairy farmers and we need to promote the care we provide our animals, benefits of dairy in your diet and the fact that 97 percent of farms are family owned." This annual event is just one-way Dairy MAX works to increase dairy's positive influence. To learn more about the #DairyAmazing Symposium, and how Dairy MAX works to reach more consumers with dairy's message visit DairyMAX.org.