Dairy Coolers Help Food Pantries Provide Needed Nutrition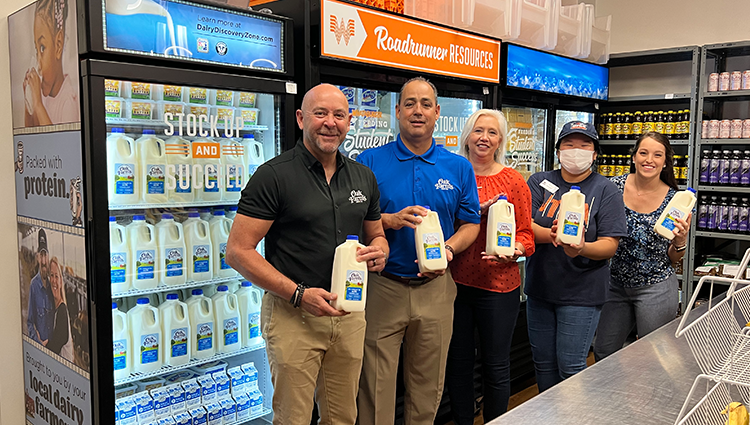 Milk is one of the most requested yet least available items at food pantries. Dairy MAX, a regional dairy council representing more than 900 dairy farm families across an eight-state region, works to fix that nutritional gap by partnering with local food pantries to place coolers.
Dairy MAX's partnership with local and regional food pantries provides 64-gallon coolers to increase refrigeration space within the pantries. These coolers are used to store milk, cheese, butter, yogurt and other dairy products desired by the communities the pantries serve. Through this partnership the pantries report dairy consumption data back to Dairy MAX that helps illustrate dairy's nutritional impact.
Dairy MAX and Feeding America share the goal of reducing barriers to nutritious foods. With the equipment provided through Dairy MAX's cooler program, food pantries can supply nutrient-packed fresh milk, which is an affordable and nutritious source of 13 essential nutrients, and the number one source of calcium, vitamin D and potassium.
To date, Dairy MAX has placed 78 coolers throughout our region—specifically in pantries that were unable to provide dairy due to a lack of cold storage. Since program inception, these pantries have provided more than 343,000 gallons of milk and 13 million pounds of dairy products, including milk, cheese, yogurt and butter.
In 2020, according to the USDA, nearly 7% of households used food pantries to bridge a financial gap. Those families should have the same nutritious food options they'd make when shopping at a grocery store—more than a few cans or boxes of dry goods.  Dairy MAX's work establishes those options at food pantries, which helps create nutritional security for our neighbors.
Dairy can be of even more importance for communities disproportionately impacted by hunger. According to Feeding America, households with people of color, children or seniors face higher hunger rates. Ensuring pantries serving those communities have the unparalleled nutrition of dairy can help lift our most vulnerable neighbors out of nutrition insecurity.
Filling coolers with dairy remains a challenge for most of the food banks and their pantries. Forty-five percent of food banks reported seeing an increase in the number of people served in 2022, likely due to inflation.
No one should have to choose between nutritious food and other necessities, which is why Dairy MAX is committed to increasing capacity and consistent access to dairy. The dairy farm families that Dairy MAX represents are devoted to providing sustainable nutrition for everyone, and that does not stop at just those who can afford dairy at the grocery store.
If you're interested in the dairy cooler program or want to partner with Dairy MAX, contact Michelle Van Pelt at vanpeltm@dairymax.org.