Dairy MAX Awards $6,500 in Scholarships to Future Leaders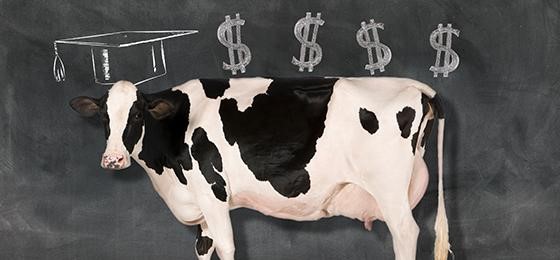 It's no surprise to you the need for the next generation of leaders in dairy farming – both on farm and off. But the enticement of other career areas and costs of higher education can work against this. Therefore, Dairy MAX remains committed to offering scholarships each year, finding the best and brightest future leaders.
"As dairy farmers rely on the strength of their community, we are dedicated to strengthening the positive role dairy has beyond the fridge too," says Marty McKinzie, vice president of industry image and relations for Dairy MAX. "Higher education expenses can add strain to a family, but our goal is to help ease some of those burdens."
Dairy MAX recognized three outstanding high school and college students for their accomplishments in academic achievement and community engagement. Jack Palla, senior at Clovis High School, earned a $2,500 scholarship. His numerous leadership roles in varsity sports, student council, FFA chapter, valedictorian honors, and community involvement at food drives are a few highlights of his exemplary achievements at a young age. He plans to gain school and internship experiences to help him be a better future representative of the industry.
"I want to gain as much knowledge as I can in order to hopefully manage a dairy operation on my own in the future," Palla states. "Ultimately being successful in the dairy industry will help me give back to the community and people who have given to me and my family."
Jessica Hanson, currently attending Kansas State University, also received a $2,500 Dairy MAX scholarship. Hanson graduated first in her class at Ulysses High School with a long list of leadership and academic honors which she's continued at K-State. An avid dairy judger, Hanson has earned numerous awards and enjoys showing Jerseys. She plans to continue her education and pursue a Masters in Dairy Nutrition and work as a Dairy Nutritionist.
Morgan Cobb was awarded the William "Bill" Wailes Memorial Scholarship. To qualify for this award, a student must be a senior or graduate student majoring in an area of value to the dairy industry such as ag business, ag economics, animal science, food science, nutrition & dietetics, ag journalism or large animal veterinary medicine. You must also be a Colorado resident and maintain a 3.0+ GPA. Cobb was selected among 19 applicants.
It doesn't take a lot to see the future of dairy is bright. Investing in young leaders such as these promotes a shared goal of making communities a better place and offers hope and encouragement the future of dairy farming is in exceptional hands.
In 12 years, Dairy MAX has awarded more than $60,000 in higher education funds to hard-working students. It's a commitment that returns more to the dairy industry than the scholarships pay for. Previous recipients have a long history of making their voices heard on issues affecting dairy farmers and putting dairy in the spotlight. Such as Lisa Lageschaar, 2012 recipient who served as 2017 Miss Rodeo America, bringing positive attention to dairy to a whole new crowd with her platform. By supporting future industry and community leaders, the scholarship program is a small investment in the future of dairy farming and rural communities.