Digital Dairy: Engaging Consumers Online and How Farmers Can Share Their Story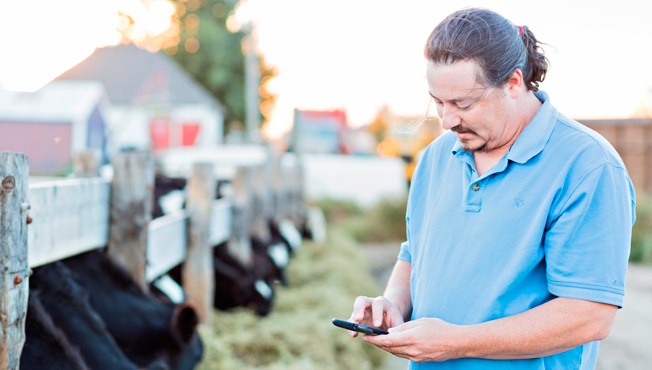 We live in a digital world where people have constant access to information at their fingertips. Everything is just a "Google" or click away, and social media is the new normal. Every minute there are 1 million Facebook log-ins, 4.5 million videos viewed on YouTube and nearly 350,000 people scrolling through Instagram.
Although these numbers might sound daunting, social media is an opportunity for the dairy industry to connect with the people buying our products. Dairy MAX works on behalf of farmers to engage online with our target group of consumers, which is moms ages 24-55. This group includes baby boomers, Generation X and millennials, and is often characterized as the "conflicted health seeker". They feel pressure to provide nutritious and wholesome foods for their family but aren't sure what sources or brands to trust for this information.
This is where Dairy MAX comes in to share all that dairy brings to the table across platforms like Facebook, Instagram and Twitter. Translating key messaging into a social media personality has allowed us to engage with followers about the health benefits of dairy and share stories of the people who get it from farm to table. Advertising within these platforms and through search engines has helped put more positive dairy information in front of more people.
Our year-long digital content plan covers topics like farm stories, cooking tips, recipes, the importance of dairy in school meals, health benefits of dairy and more. Focused campaigns around specific topics like chocolate milk as a refuel beverage for athletes and flavored milk in schools have helped Dairy MAX change the conversation online. The blog "3 Reasons to Keep Chocolate Milk in Schools" was the most popular page on DairyDiscoveryZone.com in 2018 and continues to be a top blog in 2019 as well. 
These posts helped educate parents about the opportunity for students to get nutrients they need by choosing school meals and dairy. If parents commented on the post with questions, Dairy MAX was able to follow a prepared social media response plan and call on a network of registered dietitians to provide the best answer.
In 2019, Dairy MAX social media content was seen by people over 8.9 million times and DairyDiscoveryZone.com received more than 227,000 visits. Other highlights from 2019 include:
8.9 million = number of times social media content and ads were seen
452,000 = video views on Facebook and YouTube
911,000 = people reached with recipes on Google searches
In addition to measuring the traditional likes/comments/shares, Dairy MAX has started measuring sentiment. This tracks whether comments and replies to our posts are positive, negative or neutral towards dairy. So far in 2019 most comments have been positive or neutral, which means we are sharing the right content in order to maximize return on investment and truly increase trust in dairy among our audience.
Sharing Your Farm Story Online
We know that today's consumer is more concerned than ever about where their foods comes from. Animal agriculture is constantly being threatened by misinformation being shared on social media. But research shows that consumer trust in dairy farmers is still strong. When it comes to the true story behind dairy farming, conflicted health seekers want to see it straight from farmers. It's more important than ever for farmers to have an online presence.
Don't try to tackle all platforms at once. Pick the one that makes most sense for you or your farm and go from there. Facebook is an easy place to start and where the most people are. If you enjoy taking quality farm photos, Instagram is a great option. If you have the capability to create videos, then YouTube might be for you!
Branch out from only interacting with other farmers and industry groups and share with consumers why you farm.
Create a website for your farm if you haven't already.
Answer questions, but always investigate who the person is before answering to make sure they aren't an activist. Have empathy – most people genuinely have no idea what it's like to farm or raise animals.
Share Dairy MAX's posts like this one to increase awareness.
And most importantly, always start with your "why" instead of what you do. To make connections and build trust with consumers we need to change the way we communicate. This all begins with sharing why you do what you do.
If you want to learn more about influencing consumers on social media, click here or visit DairyDiscoveryZone.com for shareable farm content, recipes and more!