Dr. Temple Grandin Visits Colorado Dairy Farms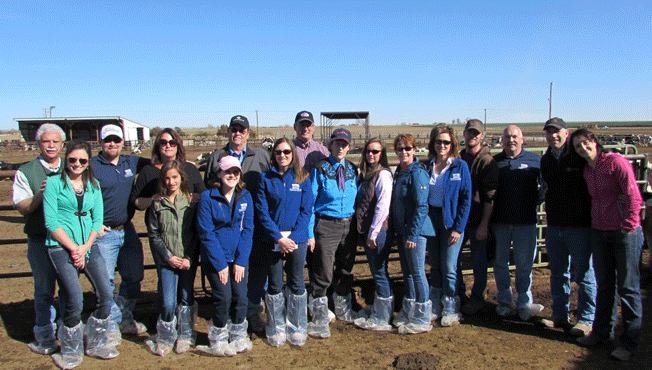 This week, renowned animal scientist, animal handling expert and Colorado State University (CSU) Professor Dr. Temple Grandin visited three Colorado dairy farms with Chairman of the Board Rick Podtburg, Board members Shelly Dickinson and Mary Kraft, as well as Dairy Farmers of America Marketing Specialist Dea Sloan, CSU Faculty member and former Animal Sciences Department Head Bill Wailes, Colorado Livestock Association Director of Communications Jessica Lemmel, Colorado Department of Agriculture Bureau of Animal Protection Chief Investigator Scot Dutcher and WDA staff.
Dr. Grandin visited the Feldpausch, Vander Dussen and Hirsch family dairies and spent time at each discussing animal care with the owners, herd managers and the tour group. Topics of discussion during the day included the FARM Program and DFA Gold Standard, as well as when euthanasia should be used, tethering calves, body condition of cows, genetics and more.
"I saw some things today that were really good," Dr. Grandin said at the end of the day. "I was real pleased on cow condition." Grandin also said that the dairies were very clean and stalls for the animals were nice and large.
"Dairy farmers work very hard to ensure that our animals are well cared for, healthy and genetically sound," said Podtburg. "It was great to take Dr. Grandin to the farm so she could see firsthand the excellent care dairy cows receive in Colorado."
Kraft agreed, saying, "We are proud to be the convener, bringing together dairy leaders to show Dr. Grandin the steps being taken to improve dairy cow welfare."
Grandin also praised Colorado's large concentration of family-owned farms, "A lot of the dairies here are family owned – people don't know that!"