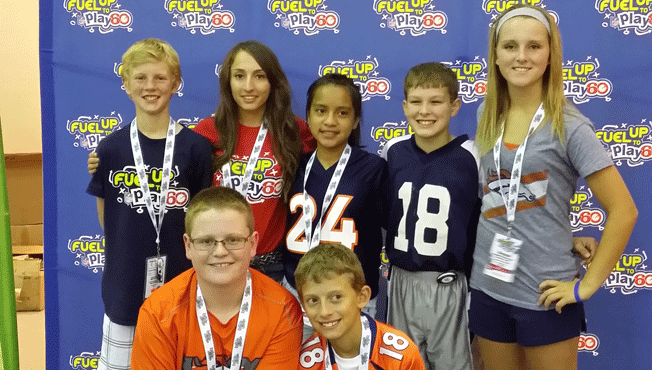 I had such an amazing time at the summit this year, it was an experience that I will cherish forever and never forget. I leaned so much information that I know will help me, my peers, my community and my nation so much. I learned how to render my leadership skills and apply them to me at home, at school, at football practice at life. I learned social media skills, participation skills, and best of all friendship skills.
I would say the best part of the summit was meeting all the completely new people, people I have never heard of or met. I met people that I will keep in touch with all my life.
Thanks to Fuel Up to Play 60, I have many new ideas for my up and coming 2014 school year. Our school will have many kickoffs, clubs, and posters related to the program, which will improve my school so much. Me and my program advisor have scheduled dates and events for our fall Fuel Up to Play 60 campaign kickoff. We will have seperate days for each middle school grade that will include obstacle courses assemblies and many more.
Because of this amazing program I have made many healthy choices including not drinking pop, eating potato chips, candy bars or ice cream (every now and then I may have some ice cream, don't get me wrong!). If I were to give any one piece of advice - student or teacher - I would say communication is key, no matter what anyone says, you aren't by yourself. If you team up with some one, you can make an even bigger impact on some one's life!
Thanks so much to Fuel Up to Play 60, the National Dairy Council, the NFL, and many more for having such a great impact on my life and many others lives as well.
About the Author
Drew is the Montana Fuel Up to Play 60 Student Ambassador. Drew is a 7th grader at Helena Middle School. He loves being active and hopes to become an NFL player one day. In addition to playing football, he plays guitar, upright bass, and a little bit of drums. Drew works hard and collaborates with his Program Advisor, cafeteria staff, and health teacher to make Fuel Up to Play 60 a success in his school. "I am a hard working student. I am looking forward to becoming a role model for the state of Montana and I am looking forward to making our community a better place!"