Educating the Educator on School Nutrition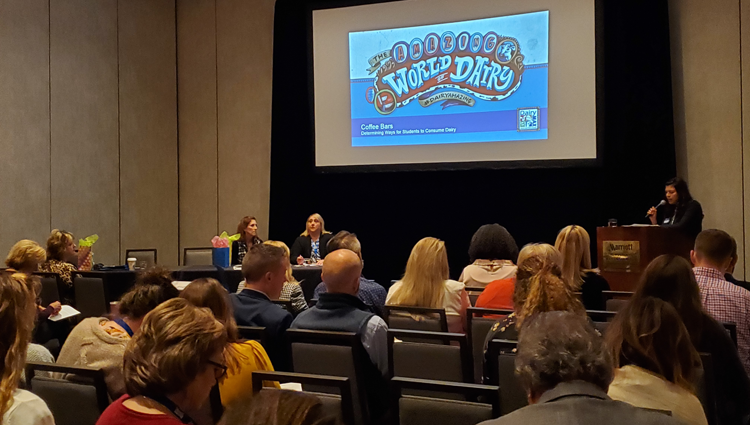 Nutrition education plays an important role in school nutrition programs, so much so that the United States Department of Agriculture (USDA) has set professional standards for all school nutrition staff.  Created in 2015, The Professional Standards Rule established minimum professional standards for all school nutrition staff managing and operating the National School Lunch (NSLP) and School Breakfast Programs (SBP). The professional standards help ensure that the state and local school nutrition program personnel participating in the NSLP and SBP have the appropriate knowledge and skills to manage and operate the programs correctly and successfully.
As a leader in school wellness and nutrition science, Dairy MAX's team of school wellness consultants work closely with school nutrition programs to provide professional standard trainings centered around dairy that fall under the required Professional Standards Learning Objectives. The Dairy MAX team has over 133 years of combined experience among ten school wellness consultants who lead these professional standards presentations. Several of the school wellness consultants are former child nutrition directors or assistant directors. 
Dairy MAX has worked closely as a team and alongside valued school nutrition professionals to develop six trainings, with plans of continuing this effort every year. The trainings include: Dairy Nutrition 101, the Farm to School Journey, Think Your Drink – Determining the Best Beverage for Students, Chill Out – Ensuring Food Safety, Communications: 2019 Style and Marketing to Gen Z.
The Dairy MAX team had a great opportunity to present several of these topics during summer conferences hosted by Colorado, Oklahoma, Louisiana and Texas Associations for School Nutrition. This provided a platform for Dairy MAX to market the professional standards presentations to school nutrition directors and receive their feedback. Several directors stopped by to inquire about the team's availability to present to their school districts, along with the Education Service Centers from across the state. The feedback received has been positive, and Dairy MAX continues to conduct trainings across the region to educate school nutrition staff on the importance of dairy in the diet.