Engaging Consumers Through Digital Contests

The last few years, Dairy MAX has worked hard to build an audience and reach people online. We have advertised on Google and Facebook, tweeted with partners, posted dairy farm families and beautiful farm  imagery on Instagram and pinned delicious dairy recipes on Pinterest. 
In 2019, we shifted our focus from building an audience and reaching the most people to targeting the right people and working to have them engage with our content by clicking, sharing or commenting. The advantage of targeting for engagement is that our content is shown to new people every time it is shared or commented on. Comments also give us insight into our real-life consumers and what they are thinking. 
A very effective way to improve engagement with our posts is through contests on social media. Dairy MAX ran several contests during 2019 in order to drive engagement with our content and share positive dairy messages. 
National Dairy Month Contest – Share your dairy moments
Our National Dairy Month contest asked people to share their dairy moments with us on Facebook and Instagram by using the Dairy MAX hashtag (#DairyAmazing) and #NationalDairyMonth. We hoped to encourage Instagrammable dairy moments with a great prize pack that included ice cream bowls, a beach cooler, pizza towel, ice cream cone pool float and more. 
The contest ran on Facebook and Instagram throughout the month of June and Dairy MAX gained many new fans and exposure to new audiences who learned what Dairy Month is all about.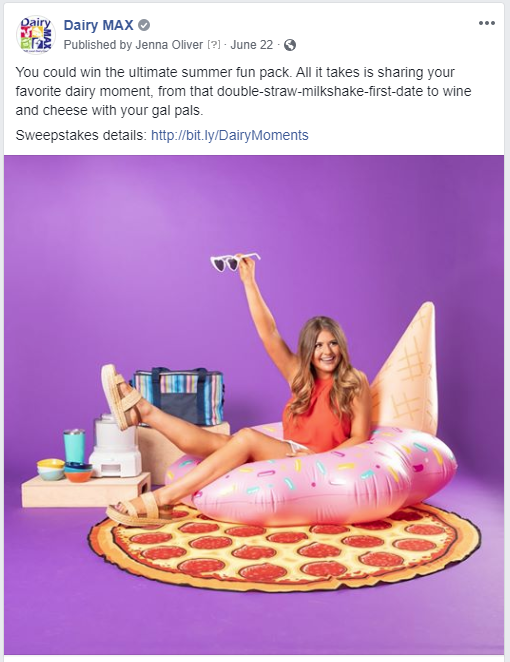 BUILT w/ Chocolate Milk Giveaway
For National Chocolate Milk Day in September, we ran a y contest for a BUILT t-shirt and tumbler that asked people to comment with their favorite workout. This contest reached thousands and had nearly 100 entries in a single day.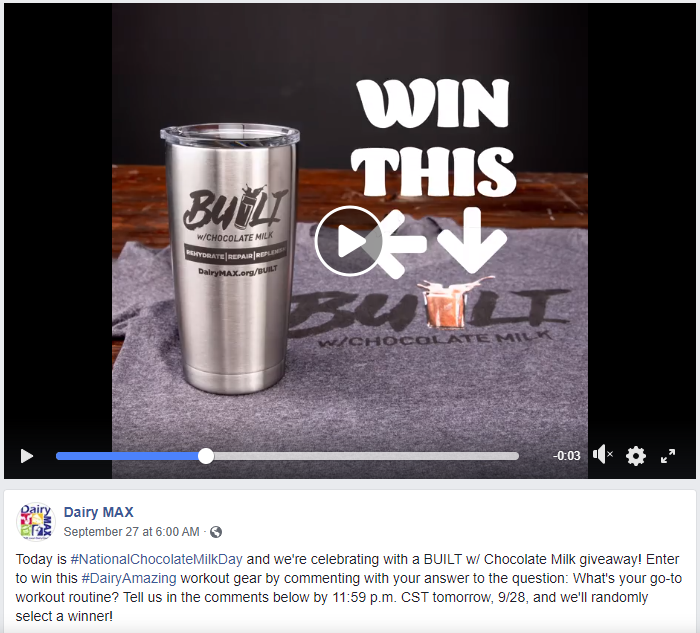 12 Days of Cheesemas
The first 12 days in December, the Dairy MAX Instagram page featured a new cheese each day. Each cheese was selected to give an idea of the variety of local and American-sourced cheese available. Each cheese was carefully photographed for the project, as well as for future use in printed and digital materials. 
In addition to sharing cheeses, Dairy MAX also gave people the chance to win a cheeseboard and cheese grater each of the 12 days. This helped to further drive engagement and sharing and get the content in front of new people. 
In addition to these special contests, Dairy MAX posted fun interactive posts throughout the year featuring farm photos from the Our Land, Our Cows, Our Passion project. Consumers love seeing the cows and interacting with the posts about our farm families, which we know because farm content is consistently the best performing across Dairy MAX social channels.  
Dairy MAX will continue to show people what dairy is all about in the most effective way possible through strategies that reach new audiences and build their trust and confidence in dairy. To see the innovative way Dairy MAX is telling our story visit our consumer website DairyDiscoveryZone.com.