Everitt Middle School Serves Up Smoothies, Recess Activities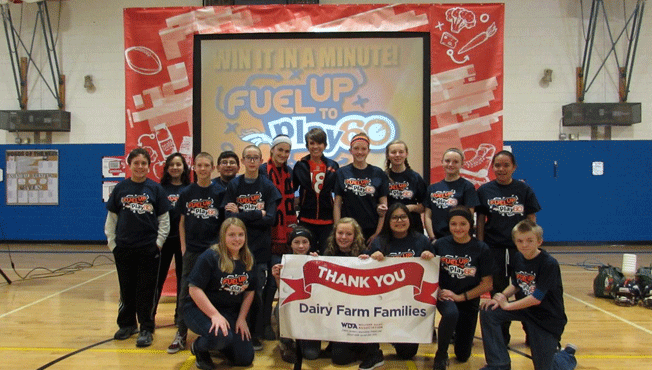 The saying "it takes a village to raise a child" is a way of life at Everitt Middle School, where a huge group of adults helps support the school's Fuel Up to Play 60 program. PE teacher Brad Hull got the program started, but quickly realized buy-in from the entire staff would take the program further and help reach more students – so he asked for help.
"Ask your colleagues for help – the amount of support I have gotten, there is no way another school could beat the support that I have gotten," says Hull.
Hull got a committee together to help apply for a FUTP 60 grant that included administration and teachers from several departments at the school. They decided to apply for funds for a smoothie cart and recess equipment.
"One of our first things that came to mind was smoothies because I don't know anyone that doesn't like smoothies," says Hull with a smile. "We thought it'd be a great way to motivate students to attend afterschool clubs if they know that its free of charge and they can get a smoothie before attending."
As a high-needs school, Everitt teachers all know that afterschool activities are crucial to helping students make good choices for the future.
"Our student leaders will certainly be the ones helping make those smoothies after school," explains 8th grade social studies teacher Bill Gold. "We really want to make our school known for multiple clubs and activities and try to get as many kids as possible doing these programs."
With the funds from Dairy MAX, the school wisely chose to have their shop class help build a portable smoothie station so they could stretch the money to buy recess equipment too. Plus, students and volunteer office staff, teachers and parents will help serve the smoothies and create new recipes.
"Getting behind the Fuel Up to Play 60 program was really easy with the group of teachers we have who are supporting more activity for all of our students," said Assistant Principal Tim Carlin. "What I love to see being a former PE teacher and now assistant principal, is more kids engaged in activities after school that they're excited about that helps their motivation throughout school."