Farmers Team Up with NFL Players to Champion Dairy at Breakfast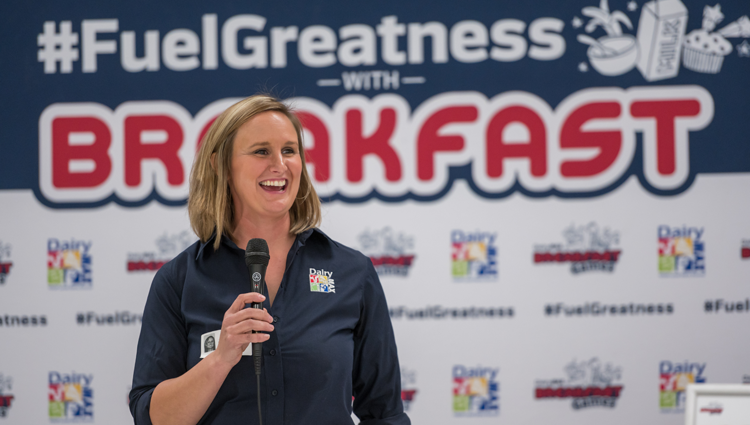 Studies continuously show students are more successful when they start their day off with breakfast. Including a nutritious choice like dairy as part of the most important meal of the day, fuels even more success. 
During National School Breakfast Week, Dairy MAX celebrated the important role dairy plays in school breakfast by hosting the Fuel Greatness Breakfast Games at three schools in Texas and Louisiana. The value of school breakfast and physical activity are brought to life during the Olympic-style games. 
The cornerstone of the Breakfast Games is the opportunity for students to interact with not only National Football League (NFL) players, but also local dairy farmers. The NFL players highlight the importance of physical activity and dairy farmers champion a healthy breakfast, especially with dairy. Together, they help students make choices to build a healthy lifestyle. 
Of course, the Breakfast Games started off with breakfast. While the students ate, the players and dairy farmers interacted and visited with the students. At Short Elementary in Arlington, Texas local dairy farmer Mikayla Krause from Krause Dairy, LLC was the healthy breakfast hero at the Breakfast Games. With the elementary school's mascot being the Shorthorns and Krause's family history of raising Milking Shorthorns, she was able to easily connect with the students and share her dairy story. 
"I gave them the highlights of dairy farming and some facts about our cows," said Krause. "They had lots of questions about my day-to-day life. They asked what I did on the farm, when I wake up and even my favorite thing to make, and I surprised them by my answer." 
Krause responded by saying she actually enjoys making herself a steak, and the students were surprised she didn't say milk. She replied she couldn't claim that honor because it is really her cows who make the milk. The conversation that followed was a great opportunity for Krause to help the students understand just where their milk comes from, and the role she plays in caring for their cows. 
"They even asked me if I had a favorite cow on the farm," said Krause. "It was fun to share with them how my favorite cow Esther was like a 2,000-pound puppy dog." 
Landry Vieth of Pecan Oak Dairy was the dairy farmer who attended the Breakfast Games at Holbrook Elementary in Houston. The students had many questions for him too, but the highlight of his time with the students was being their cheerleader during the games. 
"I had the blue team, and of course, my team won," said Vieth jokingly. 
Vieth enjoyed cheering on his team as they competed, and helping them understand how to play all of the games. Being a younger dairy farmer, Vieth felt like he was able to connect with the students because he was the same age as some of the student's siblings. 
"I was like a brother to them, and helped them see that the younger generation can be dairy farmers too," said Vieth. 
From the Breakfast Games, both Krause and Vieth felt an overwhelming sense of pride by being the ones who are bringing dairy to the table for the students. They both also enjoyed interacting with the students on a personal level through conversations and building relationships. 
"It was really great to interact with the kids and help them see where your product goes," said Vieth. "It was meaningful to put faces to who you are providing dairy products for on a daily basis."
Through their conversations it was obvious to Krause and Vieth that the students were genuinely interested in learning more about dairy. A majority of the students also shared their love of dairy products with Krause and Vieth by naming their favorite dairy treats.  
"I thought they were very receptive to hearing our story," said Vieth. "They wanted to know the process and the work that goes into getting their favorite food to the table for them. I was able to share how there are long nights and early mornings that go into getting their milk to their school breakfast lines."
In addition to the Arlington and Houston events, the Breakfast Games were also hosted at M.E. Norman Elementary in Morgan City, Louisiana. Stewart LeBlanc, a dairy farmer from Kentwood, LA, spent the morning having breakfast with students in the classroom and answering their questions about his farm.
"I was happy to see so many students drinking milk with their breakfast," said LeBlanc. "Just like my cows need proper fuel to begin their day, kids need to eat a healthy breakfast."
Dairy MAX held a district-wide contest to select the Houston host school, and Morgan City was selected because they won the No Kid Hungry Louisiana Breakfast Challenge. The goal of the contests was to encourage students to start their day off with breakfast and drive more participation in school meals. Breakfast Games were hosted at Short Elementary in Arlington to highlight the school's success with Breakfast in the Classroom, with hopes to jumpstart other district schools to implement the model.
As a result of the contests strategy, milk sales increased by 11% over a 54-day period in the Cy-Fair Independent School District and by 96% over a 180-day period in the St. Mary Parish School District. 
The Breakfast Games are the result of several strategic partnerships coming together to help promote building a healthy lifestyle in the next generation. Together, Dairy MAX, Fuel Up to Play 60 and the NFL are instilling healthy choices and making a difference in schools.  
"Dairy Max does a great job with the event and putting it all together," said Krause. "I wouldn't change any of it and what they are working to accomplish. They are really making leaps and strides in making sure dairy is a relevant choice for the next generation."