Fuel Up to Play 60 Goes to a Dairy Farm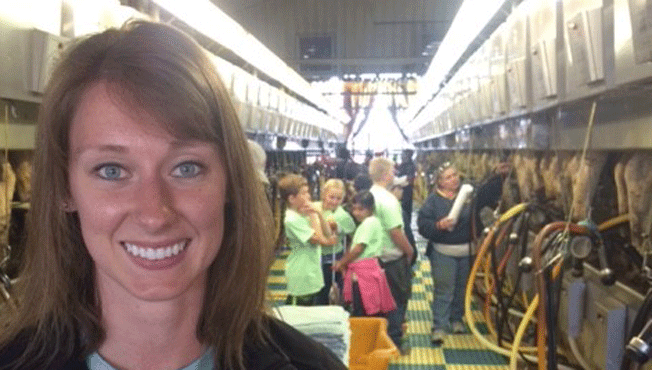 My name is Ashtyn Histed and I am the music and PE teacher at Galeton Elementary School as well as program advisor for Fuel Up to Play 60. This is our first year implementing the FUTP 60 program into the school and so far it has had only positive effects on the students.
The biggest change I've seen is in the student team. They were timid at the beginning, but as the year has progressed, they have made great strides as leaders. The team decided to clean out an old shed on school property and turn it into a recess equipment shed. They have taken turns all year manning the shed and taking care of equipment.
For our healthy eating play, we decided to take the whole school to tour the local Galeton Dairy. We needed a new milk cooler in the kitchen, so the team decided the field trip to the dairy would tie in perfectly. We also have many students whose parents work on the dairy, so it was a great way to see what their family members do every day. I personally have grown up around farms my whole life, but have never really gotten to experience a dairy farm.
The dairy tour was a blast and very educational for not only the students, but for me! On the day of the field trip, the students and I first got to see the calves, pet them and hear about how they are gradually weaned and moved to bigger and bigger pens until they are able to stay in the large pens as adults.
Then we were taken to the milking barn where the students got to watch the process of how all the adult cows are milked. This was probably everyone's favorite part because the process is specific and refined for speed and quality. Galeton Dairy puts out three to four truckloads of 72,000 pounds of milk a day and to see the perfected process was mind blowing! I loved watching the cows, incredible creatures of habit, push their way into the barn to get the stalls they wanted. Apparently they even try to stand next to their friends to be milked!
The next part of the tour was milk, cookies, and questions in the break room where the students could watch the milking from above. The student team is going to research how milk is processed next and present to their classmates on what happens after the milk leaves a dairy like this one. All in all, the field trip was a success and I am so thankful for Fuel Up to Play 60 and the impact the program is making in or student's lives.
About the Author
Today's guest blog was written by Ashtyn, who teaches at Galeton Elementary and took part in a day on the dairy farm in April as part of Fuel Up to Play 60.