Fuel Up to Play 60 Hero Works to Make West Woods Elem More Active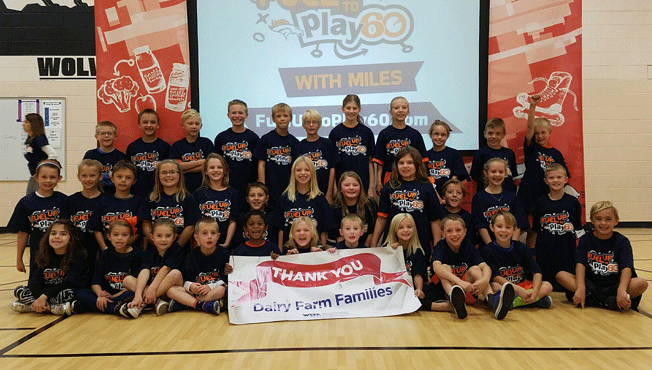 Julie Gabler, the Fuel Up to Play 60 Program Advisor at West Woods Elementary School in Arvada, was itching to get the program started at the school as soon as her kids were students there.
"I have a nutrition degree, so it was really important to me for the kids to be active, healthy and ready to learn," said Gabler. "I worked with the new principal to get the program started. She supported the program and saw the need and benefits!"
As soon as Gabler got the green light from the principal, she got to work kicking off the program. One of her first steps was forming a student team. Gabler noted that though the program is designed to help make the school a healthier place, a standout result of the program is that it cultivates student leaders. This year, there are over 40 kids on the student team leading the way to healthier living for themselves and their peers. There are representatives from each grade, kindergarten through sixth, so that every grade level has a voice in the program.
These leaders – some of them very young – have lots of opportunities to feel like they're making a difference in the school. With a recent grant, the school bought supplies for indoor recess and physical activity breaks, and the student teams were able to deliver them to their peers.
"Having something tangible that they could provide to their classmates was really amazing and gave them a lot of pride," explained Gabler
The indoor recess supplies made a huge difference – before, when students had to stay inside for recess, they would typically watch a movie. Now, they are active and have fun!
Providing indoor recess and physical activity kits for the students made one of the first plays the school implemented, In-Class Physical Activity Breaks, possible. The Team choose all the plays, including this one, after identifying the areas of need within the school with Fuel Up to Play 60's School Wellness Investigation.
"We did a survey with the student team to find out what the school was lacking. There was a need for nutrition education, so we wanted to encourage the students to make healthy eating choices and educate them on why they should be eating healthy foods."
The team recently had a fun Rainbow Week promotion that highlighted fruits and vegetables - as well as all food served in the cafeteria.
As a recess paraprofessional for the school, the Ramp Up Recess play was important to Gabler.
"I was hired because the school needed additional staffing on the playground. With 130 kids out at recess at one time, we needed someone who could help give the kids more area to play, while still supervising them," said Gabler. "We wanted to give them active zones and the equipment to play with to make recess more engaging, safe and fun."
Gabler sees the Fuel Up to Play 60 program growing at West Woods Elementary. She has provided the school with a solid foundation they can add to each year – it's really become part of their culture. She even has had many students ask if they can be on the student team next year!
"The funding and the support is always needed and to have something like Fuel Up to Play 60 makes a huge difference in our schools. It's so vital and so needed, this kind of program is what makes positive change," Gabler exclaimed. "So thank you to all the dairy farm families who support this program – they fund it and fuel it!"
Of course, the program at West Woods Elementary wouldn't be possible without a Program Advisor like Gabler, so we would like to extend a sincere thank you to her – and congratulate her on being one of our region's Fuel Up to Play 60 Heroes!
Ready to get the program started at your school? Click here!