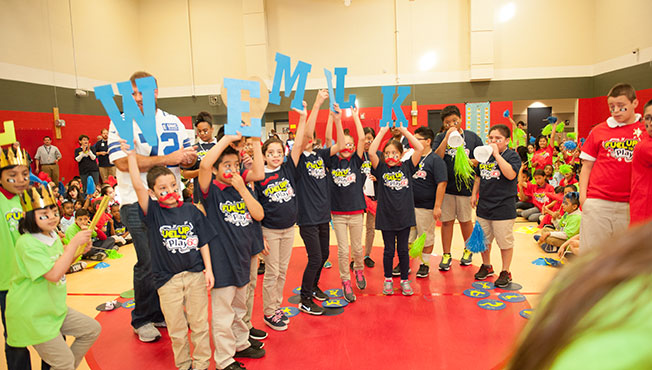 New teachers, new classmates and new challenges—it's all part of a new school year. As over 55 million kids head back into the classroom, many educators are focused on lesson plans, test scores and overall achievement. It shouldn't be all about the books. As educators, we focus on school wellness. Healthy students are better students. Healthy eating and physical activity contribute to student success.
Just like we ensure that our schools have tools for teaching, as educators, health professionals and community partners, we need to ensure that our students are getting the tools they need to stay healthy and stay focused. As the school year starts, there are two programs that you want to be aware as well as the benefits they bring to the classroom:
Begin With Breakfast
When we think of food insecurity, we usually don't think about our students. The fact is that food insecurity affects over 50 million Americans. That's more than 1 in 7 of us. Families are even more affected. In our region, 1 in 4 kids is food insecure. We know that kids who don't eat well:
Have smaller gains in both reading and math than food-secure kids
Miss school more frequently and are more likely to repeat a grade than food-secure kids
Reduce a kid's chances of graduating from high school
Providing more meals to kids help counteract these issues. School breakfast programs helps students get the nutrition they need to begin their morning. Kids who eat breakfast are better prepared for their day and have higher attendance, more energy and alertness, as well as improved memory.
Ensuring that students get a little nutrition in the morning is only half the battle. The other half is ensuring all that nutrition gets put to great use.
Fuel Your Day
School is where our kids develop skills—math, reading and writing. It's a place where we can instill lifelong habits such as eating healthy and being active. Finding the right program to help inspire kids can be tricky. Fuel Up to Play 60 (FUTP60) provides some star-power to the equation—the NFL. Still need some convincing? Here are a few reasons that FUTP60 may work for your kids, your school and your community:
It meets wellness goals. As an in-school nutrition and physical activity program, FUTP60 focuses on school wellness goals and it gets results. FUTP60 has helped over 13 million students focus on eating MyPlate foods. It has helped over 16 million students get over 60 minutes of physical activity a day.
It empowers students. FUTP60's wellness activities focus on best practices and encourage students to take a leadership role. The healthy choices these leaders make impact their whole school.
It uses its partnership with the NFL to kids get in the game. Across the country, all 32 NFL teams participate with schools in their area. Regionally, Dallas Cowboys center Travis Frederick and Houston Texans left tackle Duane Brown are two players that believe in and promote healthy eating and being active. Best of all, they inspire kids and teachers to get involved.
FUTP60 also has a community focus. As a health professional, it's easy to support your school by sharing your time and your expertise. Find ways to help your community fuel up!
Healthy Focus
Kids spend more than 2000 hours every year in school. Let's continue to make sure that they are getting the nutrition they need to succeed. Learn more about success through healthy schools. Discover more about FUTP60.