Greek Yogurt Takes on Texas and New Mexico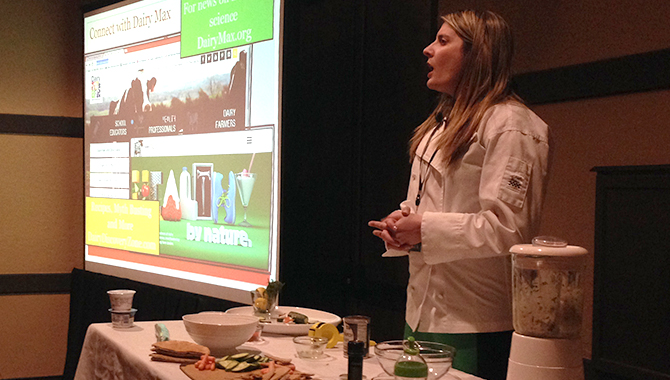 Greek yogurt has achieved superfood status, and the New Mexico Academy of Nutrition and Dietetics (NMAND) meeting held in Santa Fe was the first to get the inside scoop on April 25, 2016, followed closely by the Texas Academy of Nutrition and Dietetics in an April 28 meeting.
Numerous state affiliations of the Academy of Nutrition and Dietetics (AND) hold annual meetings like this one to keep dietetic professionals abreast of current research and practice. This year, hundreds enjoyed a keynote presentation about the versatility of Greek yogurt.
The Greek Yogurt Revolution
One thing attendees were surprised to learn was that Greek yogurt does not necessarily come from Greece. The technical name of Greek yogurt is "strained yogurt" which has been enjoyed throughout the world, including the Middle East, Africa, India, European countries and Greece. Today, however, the popularity of Greek yogurt has surged, coinciding with other trends like the slow food movement, the rise of farmers' markets and simpler foods. It's also a time where many foods are touted as gluten-free and low in sodium and sugar – all characteristics of Greek yogurt.
Greek Yogurt as a Substitute
Many folks enjoy Greek yogurt for breakfast or as a snack, but this delicious dairy delight is much more versatile in the kitchen. In my cookbook The Greek Yogurt Kitchen: More Than 130 Delicious, Healthy Recipes for Every Meal of the Day, I highlight many creative uses for Greek yogurt in the kitchen. Some surprising uses include in hollandaise sauce, deviled eggs, dressings, pizza, frosting and popsicles. Here are several ways Greek yogurt can substitute for fattier or more caloric foods:
Instead of 1 cup (2 sticks) butter, use 1/4 cup of Greek yogurt and 1/2 cup (1 stick) butter
Instead of 1 cup buttermilk, use 2/3 cup of Greek yogurt and 1/3 cup of low-fat milk
Instead of 1 cup oil, use 3/4 cup of Greek yogurt
Oftentimes, folks like to substitute Greek yogurt 1:1 for cream cheese, sour cream or mayonnaise. Although you absolutely can, you don't have to. I like to substitute only half the higher fat ingredient for nonfat plain Greek yogurt, as I do like those other delicious flavors. You'll still be able to taste the mayonnaise, sour cream and cream cheese, but they'll only contain half the fat – that's a great incentive for your clients.
How to Prevent Curdling
If you are using Greek yogurt over heat, you may encounter curdling. Fortunately, there are several ways to prevent curdling:
Temper (or warm) the yogurt by slowly adding several spoonfuls of the hot food on the stove (usually a sauce) into a separate small bowl containing the yogurt.
Remove the food from the stovetop and allow it to cool for several minutes before mixing in the Greek yogurt.
Use a double boiler, like when making Greek yogurt hollandaise sauce.
Recipe: Salmon and Dill Cucumber Bites
After both presentations on Greek yogurt and its versatility in the kitchen, I demonstrated two recipes from my cookbook, including these Salmon and Dill Cucumber Bites. If you make them, please tweet or Instagram a photo to @tobyamidor and @DairyMax – we would love to see your creation!
Serves: 6
Prep time: 20 minutes
Cook time: 0 minutes
Ingredients
3/4 English cucumber
1¼ ounces smoked salmon
1/4 cup low-fat plain Greek yogurt
1/4 cup whipped cream cheese
1 tablespoon chopped fresh dill
Directions
Slice the cucumber into twenty-four 1/4-inch-thick rounds. Arrange the cucumber slices on a large serving platter. Cut the salmon into 24 bite-size pieces.
In a small bowl, fold the yogurt and cream cheese together until thoroughly combined. Then add the dill and stir to incorporate.
Top each cucumber slice with 1 teaspoon of the yogurt-cheese mixture, then 1 piece of the salmon. Serve immediately.
Nutrition Information
Serving Size: 4 pieces
Calories: 38
Total Fat: 3 g
Saturated Fat: 1g
Protein: 2 grams
Total Carbohydrates: 3 g
Sugar: 1 g
Fiber: 0 g
Cholesterol: 5 mg
Sodium: 80 mg
Recipe from THE GREEK YOGURT KITCHEN by Toby Amidor. Copyright © 2014 by Toby Amidor. Used with permission by Grand Central Publishing. All rights reserved. www.tobyamidornutrition.com