How Health Pros Can Connect Farm to Fridge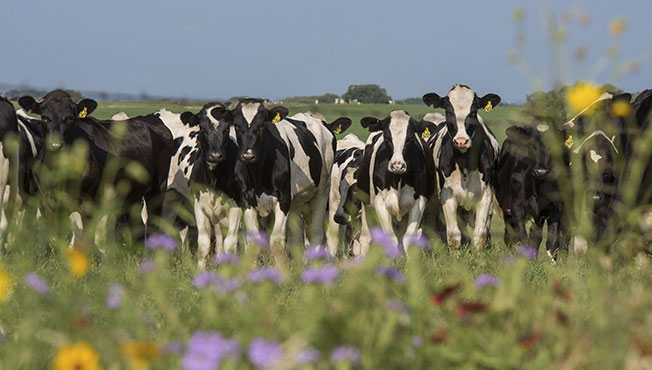 Health professionals are used to talking about how food provides vital nutrients that support health and prevent chronic disease. However, it isn't all about nutrition facts. Our clients are consumers, and now more than ever, consumers want to know about the farm. At a time when more than 80 percent of us live in urban settings, it can be challenging for health professionals to be the bridge between the farm and the fridge. The best way may be sharing dairy's story: that milk is the original local food, traveling from farm to fridge within just 48 hours, thanks to farmers who work 365 days a year to nourish their cows, their environment and all of us.
In addition to that journey, here are two things your clients might find interesting about the modern dairy:
Quality care continues to be the top priority
Cow care is a hot topic with consumers. Many consumers want to know that the milk they drink comes from happy and healthy cows. That all starts with The National Dairy FARM Program: (Farmers Assuring Responsible Management). The program is open to all dairy farmers, co-ops and processors across the United States. It sets the highest standards when it comes to animal care.
FARM inspires dairy farmers to do things even better every day. How does it work?
It provides detailed guidelines based on the latest research on quality animal care.
It seeks feedback from veterinarians and agriculture experts, then sets a plan for continuous improvement.
It ensures integrity of the program through third-party verification.
Cow nutrition is an evolving science
Cows eat a customized diet finely tuned by a nutritionist. That makes a big difference, because a cow's feed becomes the food we eat. You may be surprised to know that a cow's diet influences a few different environmental factors as well:
It reduces waste. Eighty percent of what cows eat, humans can't digest. Twenty percent of what cows eat, humans usually don't. It comes down to about 1 percent of food that we would likely share with the cows. So what is most of the feed? Leftovers from food companies including husks, meals and pulps. It's incredible; all that waste that would go into our landfills is turned into nutritious and delicious dairy foods.
It directly affects greenhouse emissions. While a glass of milk provides much-needed nutrition, consumers are concerned about how that affects the environment. The carbon footprint of dairy foods – from farm to table – is approximately 2 percent. Dairy farmers and researchers are exploring ways to reduce that footprint even more through dairy cow nutrition, genetics and health.
It provides nutrients to feed the land and power our homes. Anaerobic digesters can produce natural fertilizers and renewable energy from waste.
By discovering farming facts like these, you can feel more comfortable connecting the consumer to both the farm and the fridge. Learn more about how to honor the harvest, and explore our dairy farmers' commitment to sustainability.