How to Host Your Own School Breakfast Event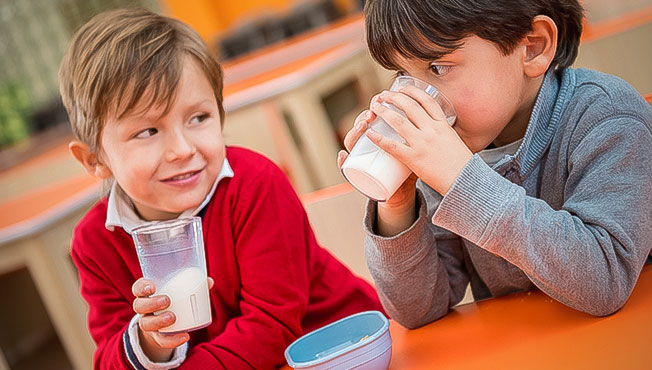 We all know how important breakfast is – especially for growing students! A healthy breakfast energizes students and helps them stay focused. As educators, we have a huge opportunity to help our students form healthy breakfast habits, and breakfast events are a great way to do that – increasing participation in school breakfast programs and reinforcing the importance of eating breakfast every day.
Breakfast events are fun and easy to do yourself with the right resources! Here's a quick guide.
Choose Your Activities
Keep it simple and engage the kids! Here are some fun ideas you can use for a breakfast event at your school.
Make over your menu by serving a special new item.
Create a healthy-breakfast bulletin board in the cafeteria.
If your school doesn't already do Breakfast in the Classroom, try it for one day!
Invite a local athlete to eat breakfast with students.
Play a Dairy MAX breakfast video on a projector during breakfast.
Invite teachers and the principal to serve breakfast to students.
Host a parents' breakfast.
Host a taste test of new breakfast items or smoothies.
Piggyback onto an activity that's already going on at your school, such as a holiday or themed activity.
Check out this breakfast video you could show.
Promote Your Event
The most successful breakfast events are well-promoted. Here are some ways to spread the word.
Add the event to your school's morning announcements.
Promote it on your school's social media pages and in the newsletter to reach parents.
Hang signs around the school and in the cafeteria.
Provide teachers with talking points about the importance of breakfast.
Decorate your space – students notice new decorations. They can be made or purchased inexpensively.
Give away a small item such as a sticker or pencil, or have students enter a weekly raffle to build excitement. Dairy MAX may be able to provide a door prize if you contact one of our reps.
Need a Hand?
At Dairy MAX, we have many wonderful resources to help you with your school breakfast event. Contact your local Dairy MAX representative to get free resources, such as a cafeteria toolkit with posters, stickers and other goodies you can use for a breakfast event!
Your Dairy MAX representative can also help you plan your breakfast promotion event and possibly provide incentives for students to participate, such as door prizes for raffles or videos to play on a projector during your event.
Are you inspired to throw a breakfast event at your school?