The Lactose Intolerance Low-Down with Chef Caitlin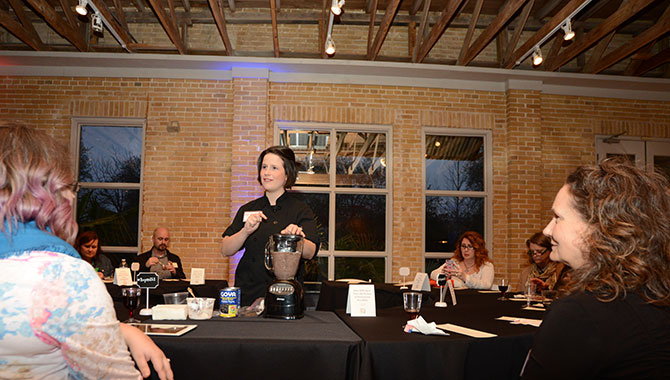 Did you hear about the party Thursday night? On February 26, Dairy MAX's staff and Health and Wellness Advisory Council along with the South Texas Academy of Nutrition and Dietetics and a handful of San Antonio food bloggers teamed up at the ZaZa Gardens in San Antonio to learn more about lactose intolerance and how to teach their clients, patients and friends to enjoy dairy foods lactose-free.
Many people love cheese, but when you mention milk, yogurt and ice cream, some complain that it hurts their stomachs. A few might even say they are "allergic" to milk or dairy, not knowing that they likely just have trouble digesting milk's sugar, lactose. They cut dairy from their diets to prevent unwanted gastrointestinal issues, but little do they know they are cutting out key ingredients to good health like calcium, vitamin D and protein, as well as a host of other nutrients the body needs to develop and maintain strong muscles and bones. In addition, research shows that low-fat dairy foods can help prevent chronic disease like cardiovascular disease, type 2 diabetes and hypertension.
So Thursday night, Cooking with Caitlin (@cookingwcaitlin) provided nine delicious courses with lactose intolerance-inspired dishes.
Most people, maybe even some dietitians, do not realize that only about 12 percent of the population is lactose intolerant, and that number is based on self-diagnosis. Very few know that they can still enjoy the recommended three daily servings of dairy if they're strategic about the types of dairy foods they choose.
Chef Caitlin's recipes incorporated milk, cheese, yogurt and lactose-free products in a playful and delicious way.
From monterey jack tuilles with pico de gallo to asiago polenta with chorizo-spiced pork (my favorite dish of the night!).
…to homemade horchata made with lactose-free milk and oatmeal cookies.
We enjoyed a delectable tapas-style meal with no gastrointestinal complaints!
We also shared lactose intolerance facts, tips and tricks to get everyone lactose-intolerance savvy.
You might have missed out on the oh-so-tasty nine courses, but here are three lactose-intolerance tips you can share with your clients and friends to help everyone around you enjoy the goodness of dairy amazing foods:
Choose lactose-free milk like Lactaid Brand Milk; real milk without the lactose!
Choose harder cheeses like Cheddar, Swiss, Colby and Monterey Jack to add to your dishes or eat as a snack.
Include low-Fat Greek yogurt into meals and snacks as it contains probiotics that can help digest lactose found in the yogurt.