National Dairy Council RD Shares Farm Tour Experience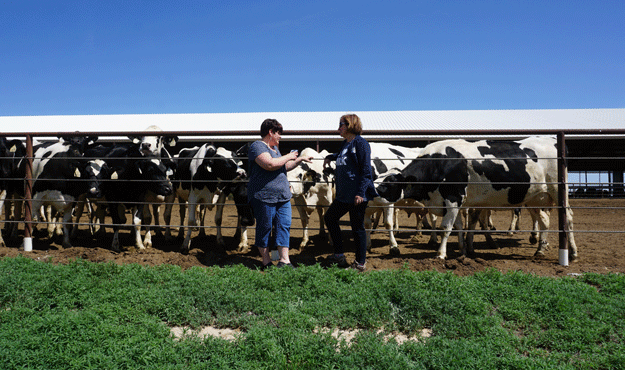 Over the past 21 years that I have worked for National Dairy Council, I have visited hundreds of farms all over the country. What I've learned during these travels is that it's not about the size of the farm, but rather the best management practices on the farm that help take care of people, animals and the planet- that's undeniably dairy! No matter the type of farm, farmers use business and science-based practices to ensure resources are used judiciously to help nourish people, while being mindful of the environment.
On World Milk Day, we led a group of registered dietitian nutritionists (RDNs), students, and staff to visit a dairy farm (Lost Creek Dairy), cattle ranch (Huwa Reserve) and vegetable farm (Petrocco Farms) in beautiful Colorado. Huge thank you to the team in Colorado for all the great work they did in putting together this event!
What is different about farming in Colorado? Often there is 300 days of sunshine, dry weather and the view, of course! Something that stood out to me during my visit to these farms was the importance of the local community, and I have seen this across the country as well. There is a strong commitment to local food, which means that people are seeking out food from nearby farms. By supporting their local farms, they are not only choosing nutritious foods, but also helping keep the local farms in business.
For all that farmers do to help nourish us, let's do our part and honor the food they grow and raise by learning more about where it comes from and appreciating the hard work that goes into growing and raising our food by not wasting the food.
About the Author
Jean Ragalie-Carr, RDN, LDN, FAND, is President of National Dairy Council. Ragalie-Carr has more than 30 years of experience cultivating wellness as an RD. Here she shares her experience touring several farms in Colorado in June 2017. Read more about her here.