NEW: 360 Virtual Reality Dairy Farm Tour Launches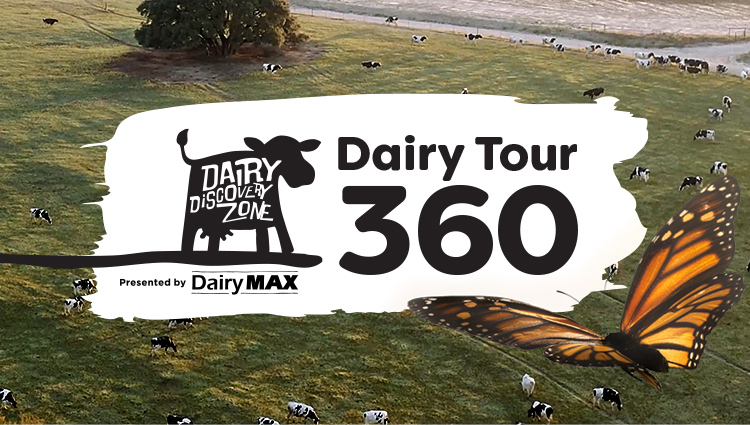 Part of our mission is to connect everyday people with the dairy farmers responsible for the milk in their favorite foods. We know what a huge difference it makes when we're able to invite someone to the dairy farm to see firsthand all the care that goes into keeping the cows, milk and land healthy. Of course, not everyone can tour a dairy farm in person.
But now they can do it online.
Thanks to 360-degree cameras and drone technology, we've created a unique experience that combines immersive, interactive virtual reality with an engaging guided tour.
The Desktop Experience
DairyTour360.com offers a virtual dairy farm users can explore by clicking around to the different parts of the farm, finding fun-fact popups and accessing a whole series of 360-degree videos with interesting commentary on key dairy topics. Viewers can click and drag to move the perspective of the camera and look all the way around each scene as it's playing.
The VR Headset Experience
For a fully immersive experience, the 360-degree videos are compatible with virtual reality headsets such as Oculus through the YouTube playlist. Viewers will feel like they are actually on the dairy farm – standing in the feed lane, riding the milking carousel or flying over the fields. A recent jump in VR use, especially over this past holiday season, positions us perfectly to make an impact with this technology.
The Mobile Experience
Smartphone users can explore the desktop version in a browser on their phones. Or, if they have a VR viewer tool like Google Cardboard, they can enjoy an experience similar to a VR headset:
Download the latest YouTube app
Play the YouTube playlist 
Tap the google icon at the bottom of the screen
Insert the phone into the VR viewer tool 
Important Topics Covered in Fun Ways
How sustainable dairy farming is today
What cows eat and why it matters
How different types of housing keeps cows comfortable and healthy 
Different ways we milk cows in modern times
How milk is processed and ultimately transported to the kitchen table 
Dairy Tour 360 is one of our most exciting initiatives – a way we can connect with our audiences like never before. We want to extend a huge thank you to all the dairy farmers who've made this happen.
Check out the tour: