Nutrition's Effect on Student Testing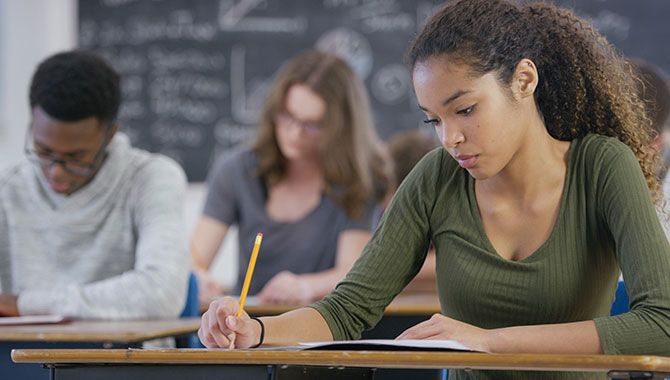 Every spring semester, school children all over the country are given standardized tests to evaluate how well they've learned over the school year. This can be a very stressful and anxious time for children, parents and teachers.
One of the best ways to prepare for testing time and to help alleviate that anxiety? To eat a nutritious diet. Studies have demonstrated that nutrition affects how students think, behave and feel before testing.
A recent study found that 5th grade students who ate a less nutritious diet performed worse on a standardized writing assessment.1
Another study suggested that students who ate more fast food did worse on math and reading scores.2
Another study which introduced healthy, fresh-prepared meals found that students scored high on English and science tests!3
Poor nutrition also affects school performance on an everyday level. Students experience more illnesses, headaches and stomachaches – resulting in absences or problems concentrating. Access to healthy meals has been proven to increase concentration and energy levels, which will allow the student to be more prepared when it's time for standardized testing.
How We Can Help
Many youths face poor nutrition, obesity and food insecurity. Schools are able to provide nutritious foods throughout the day to all students, regardless of economic status. Since we recognize nutrition is critical for the development and success of our students, we need to continue to raise awareness that school food programs can be the answer for many students who don't have regular access to healthy meals at home.
Sources:
1. Belot, M., & James, J. (2009). Healthy school meals and educational outcomes. Journal of Health Economics, 30(3), 489­504.
2. Florence, M. D., Asbridge, M., & Veugelers, P. J. (2008). Diet quality and academic performance. Journal of School Health, 78(4), 209­215.
3. Li, J., & O'Connell, A. A. (2012). Obesity, high­calorie food intake, and academic achievement trends among U.S. school children. The Journal of Educational Research, 105(6), 391­403.