Passion for Pints Brings Dairy Farmers, Donors Together to Save Lives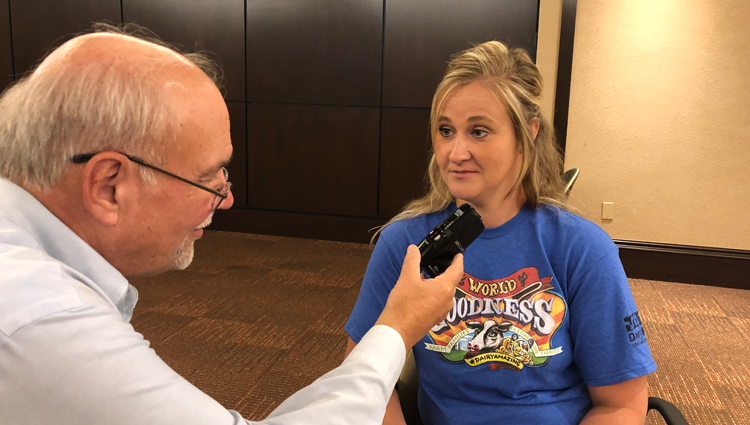 The final tallies are in, and there's no doubt about it: the seventh annual Passion for Pints blood drive campaign was a success. In more than 400 drives across Texas, New Mexico, Oklahoma and Colorado, 13,195 units were donated. That's enough to save 39,585 lives.
Held during National Dairy Month every year, the event began in 2013 after a farmer and routine blood donor noticed he was never offered milk after giving blood. He took the idea to Dairy MAX, and since then, almost 200,000 lives have been touched. At each Passion for Pints event, blood donors receive a stress cow, an official Passion for Pints t-shirt and various dairy products to make recovery fast, easy and delicious. They also get a chance to meet a local dairy farming family.
John Cass, director of industry image and relations for Dairy MAX, said the events are not just about milk promotion, though: they show consumers that dairy farmers are dedicated to their communities and giving back.
"We wanted to not only position milk and dairy products as preferred beverages after giving blood, but have these events serve as opportunities for farmers to connect with others throughout their communities," Cass says.
Dairy farmers Tom and Sherri Alger from Friona, Texas, have participated every year (and Tom was a longtime blood donor before the program's inception).
Sherri said Passion for Pints is a great way for dairymen and women to give back, but they benefit from it, too.
"It is a great way to make a connection with families in our community that don't live on a farm," she said. "It gives you a chance to tell them about what you do for a living and help them understand milk doesn't just come from the store. It comes from a family like ours."
While Sherri is unable to donate blood, she participates in other ways and encourages her fellow dairy farmers to do the same next year.
"If you can give blood, please do, because it's something we all need to survive," she said. "But if you can't give blood, you can still go down and help. You can help check donors in, make people feel welcome and pass out milk and cookies. There are lots of opportunities to make a difference."
At each Passion for Pints event, banners and posters promoting the benefits of dairy adorned the sites. Media events took place at some centers, Cass said, with local dairy farmers available for interviews.
He added the timing couldn't be better. Not only was June National Dairy Month, but also a time when blood banks need help the most.
"During the summertime, the number of blood drives is down because schools are out," Cass said. "They don't have nearly as many as during the rest of the year. Plus, the demand for blood is up because of an increase in travelling and car accidents. It's just the perfect time to give back while telling dairy farmers' stories in the community."