Peak to Peak Charter School Grows Milk Consumption with New Dispensers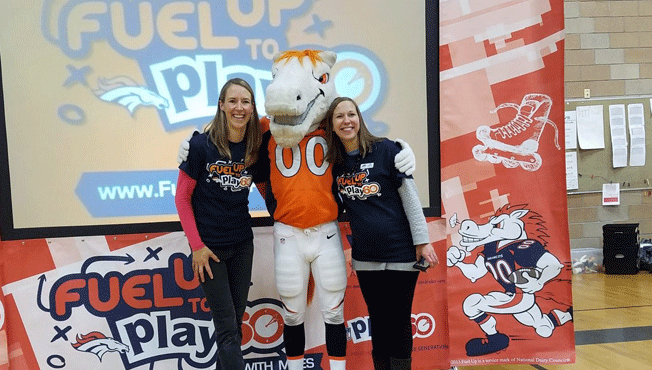 Fuel Up to Play 60 and a generous grant from local dairy farm families are helping students make healthy choices at Peak to Peak Charter School in Boulder Valley School District. Grant funding allowed the school to purchase two large stainless steel bulk milk chillers and tables to put them on for the school cafeteria.
"Prior to using the chillers we were using cartons, and sadly creating a lot of container waste," explains Raquel Hink, the school's Program Advisor. "We filled the chillers with non-fat milk and 1 percent milk and the kids at our school love them!"
Students enjoy serving themselves their own milk and state that it tastes better and seems fresher. The school community loves how much less waste they are creating. Sales data shows that the students are buying more milk.
In addition to getting more milk into student meals, the school is also working on a new school garden, as well as mindfulness exercises and an all-school movement day.
"We describe wellness as the 'recipe for a healthy life,'" says Hink. "Our elementary school FUTP60 student leadership team learns all about wellness and keeping themselves healthy and then they return to their classrooms to teach their entire class."
The school is now building a middle school team too – they will be completing the School Wellness Investigation, a Fuel Up to Play 60 step designed to help students learn more about their school environment and identify areas for healthy changes.
"We are on our way to integrating movement into all the elementary school classrooms at Peak to Peak!" Hink exclaims.
Her advice for new program advisors? Get buy-in from school administration so they can help support and schedule your efforts.
"Also, try to use the students themselves to find areas that they are passionate about so that their leadership is encouraged naturally," says Hink. "They all have such great ideas! We are just on the sidelines to help coach them while they create change and learn all about their own potential!"