Power in Partnerships: Pizza Hut Employees Visit Dairy Farm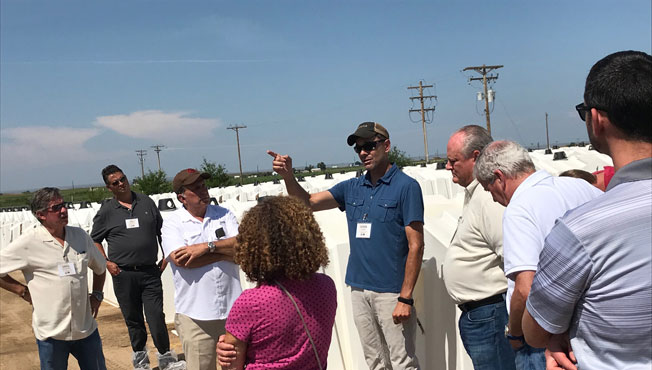 Not many organizations have the opportunity to work closely with globally recognized and influential companies on a regular basis. The dairy checkoff makes it possible for farmers and importers to expand the reach of their nutrient-rich products and ingredients by partnering with McDonalds, Domino's, Taco Bell and Pizza Hut to advance dairy product innovation and ultimately trust and sales. This creates a unique responsibility for the industry to educate these companies about the nutritional benefits and responsible production of dairy.
Local and national checkoff organizations, Dairy MAX and Dairy Management Inc. (DMI), hosted over 20 Pizza Hut employees and franchise owners with Norm and Britt Dinis at their dairy farm in Wiggins, Colorado to learn about where Pizza Hut cheese comes from and the farmers who help produce it. In attendance were leaders from Pizza Hut's innovation, marketing, supply chain, food safety and quality teams. The tour showcased Empire Dairy's sustainability, cow care and feed practices, allowing employees and franchise owners to personally connect with a dairy farmer.
Nitin Joshi serves as the onsite dairy scientist at Pizza Hut headquarters—an embedded position resulting from the partnership between dairy checkoff and Pizza Hut. Joshi's role within the Pizza Hut innovation team is to help create new dairy products and accelerate the commercialization of those products to market, working in conjunction with Pizza Hut's marketing team. Our partnership's goal is to help Pizza Hut put "more cheese in more places", while building consumers' love and trust in Pizza Hut's pizza products and ultimately in dairy products.  Pizza Hut wants to help connect consumers to the farm and help them understand where their great food comes from. To help reach this goal, Joshi was instrumental in bringing Pizza Hut employees and franchise owners to the farm.  
"This tour was a great success," says Joshi. "There was great learning about dairy farming and nice interaction with farmers. Dairy farmers and franchisees are very similar, they both work seven days a week, 365 days a year. The participants also had a better understanding about DMI and Dairy MAX."
With consumers being several generations removed from the farm, it is not only important to educate them about where food comes from—but the individuals in the restaurant and food service industries as well. Several of Pizza Hut employees and franchise owners had never visited a dairy farm, and walked away from the experience with a newfound respect for dairy farmers and products.
"They learned about what different kinds of obstacles and challenges are faced by the dairy farmers to successfully deliver milk from farm to the table," says Joshi.
Following the tour at Empire Dairy, attendees also visited Leprino Foods, the world's largest manufacturer of mozzarella, to see where Pizza Hut's cheese comes from. Dairy MAX partners with Leprino Foods at a local level to educate consumers and stakeholders across the region, and leverages opportunities like farm tours to tell the complete farm to fridge story.
Dairy MAX is proud to partner with companies who share common values with the dairy industry. By working together, we can reach more consumers with nutrient-rich dairy products and ingredients and provide additional resources to further advance product innovation. An example is when Pizza Hut increased the amount of cheese on their pan pizzas by 25 percent, requiring an additional 150 million pounds of milk annually. Partnerships like this one continue to be a success for the dairy industry. 
"Our partnership with Pizza Hut gives dairy a seat at the table in menu development, leading with consumer insights," says Gretchen Crichton, manager, business development for Dairy MAX. "Hosting key leaders at a dairy farm builds trust and commitment for dairy when they see the passion behind producing the milk that goes into the cheese for their pizzas."
To learn more about our partnerships and programs, click here.