Protecting Dairy's Role in Dietary Guidelines
Dairy checkoff has been committed to nutrition science and education for over a century through the work of National Dairy Council. With a staff of registered dietitians, nutrition researchers and communication experts, National Dairy Council works to provide practical information about how dairy contributes to health and sustainable food systems. One way this work comes to life is protecting dairy's place in the Dietary Guidelines for Americans (DGA).   
The DGA is revised and published every five years by the U.S. Department of Agriculture (USDA) and the U.S. Department of Health and Human Services and has far-reaching impact, as it serves as the foundation for U.S. nutrition policies and feeding assistance programs. These include national school meal programs, the Supplemental Nutrition Assistance Program (SNAP), and the Special Supplemental Nutrition Program for Women, Infants, and Children (WIC), among others. 
What the Dietary Guidelines Mean for Dairy
These programs nourish millions of Americans and provide the dairy foods needed to meet DGA recommendations. According to the USDA, federal food assistance programs moved 10.7 million pounds of milk, 684 million pounds of cheese and 662 million pounds of yogurt and other dairy foods in 2019 alone. 
The 2020-2025 DGA, released in December of 2020, reaffirms the importance of consuming dairy every day as part of a healthy diet. Key aspects of the DGA for dairy include:
Dairy remains its own food group.
The nutrients of concern for Americans continue to be calcium, vitamin D, potassium and fiber. Dairy foods are important sources of calcium, vitamin D and potassium in the U.S. diet and can help close these nutrient gaps.
For the first time, the DGA recommendations for the birth-to-23-month time period are included and yogurt and cheese were recognized as complementary feeding options for infants starting as early as 6 months. Dairy foods (whole milk, reduced-fat cheese and reduced-fat plain yogurt) were included in recommendations for toddlers 12-23 months.
Daily inclusion of low-fat and fat-free dairy foods is recommended in all three DGA healthy dietary patterns. Following these healthy dietary patterns is associated with reduced risk of chronic diseases like cardiovascular disease and type 2 diabetes.
Linking dairy foods to bone health in both adolescents and adults, showing dairy's important nutritional support for accrual of bone mass and promotion of bone health outcomes, including prevention of the onset of osteoporosis.
Including whole or reduced-fat dairy is still possible within the DGA limits. The DGA maintained the recommended 10% or less of calories from saturated fat without any decrease.
Reinforcing Dairy's Contributions to Healthy Eating 
Since the development of the DGA, National Dairy Council has recognized opportunities to share dairy's essential nutrition, taste and affordability, and protect dairy's presence on behalf of dairy farmers. This ongoing work takes place during the Dietary Guidelines Advisory Committee revision process that informs the next edition of DGA. The committee, which includes appointed nutrition and health experts, provides opportunities for the public to provide their input as written comments and oral testimony. 
During the period before the release of the 2020 DGA, National Dairy Council submitted 14 sets of science-based written comments and delivered oral testimony on two occasions to provide the most current and relevant science on dairy foods in nutrition and health. This information is shared in collaboration with International Dairy Foods Association (IDFA), Milk Processor Education Program (MilkPEP) and National Milk Producers Federation (NMPF). 
Lana Frantzen, Ph.D., Dairy MAX vice president of health and wellness, attended the Dietary Guidelines Advisory Committee meeting in Houston to provide comments on behalf of National Dairy Council. 
"The 2020-2025 Dietary Guidelines for Americans are critical to the future of dairy," said Frantzen. "Development of the guidelines is science-driven, which is why checkoff works at national and local levels to share the science and research behind dairy's role in nourishing people, communities and the planet." 
Continued Commitment 
Dairy checkoff continues to invest in science on dairy nutrition at all fat levels related to health and the reduced risk of disease, with National Dairy Council funding 70 studies on the topic since 2002. This commitment is based on the DGA relying on repeated evidence rather than single studies when considering its recommendations, which often takes decades. 
The good news is that there is a growing body of evidence, including work funded through National Dairy Council, that shows dairy of all fat levels has neutral to positive benefits. Additional studies are currently in the research pipeline and will be added to the science-based data that supports the consumption of a wide variety of dairy at all fat levels.

Image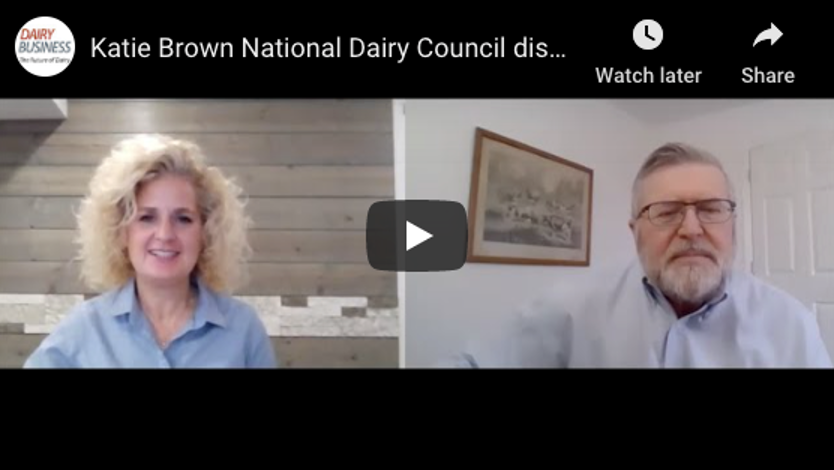 Hear from Dr. Katie Brown, vice president of scientific affairs and outreach for National Dairy Council, share with Dairy Business how checkoff-funded research and testimony play into keeping dairy in a favorable position with the DGA.
National Dairy Council and Dairy MAX continue sharing positive news about dairy's role in the recently published DGA by launching new resources reaching health professionals and consumers. Additionally, work has already begun focusing on the next version of the DGA to be published in 2025.
Click here to learn more on how your local checkoff is promoting dairy's role in a balanced diet.