Shelton Elementary Hosts First-Ever Breakfast Games in Colorado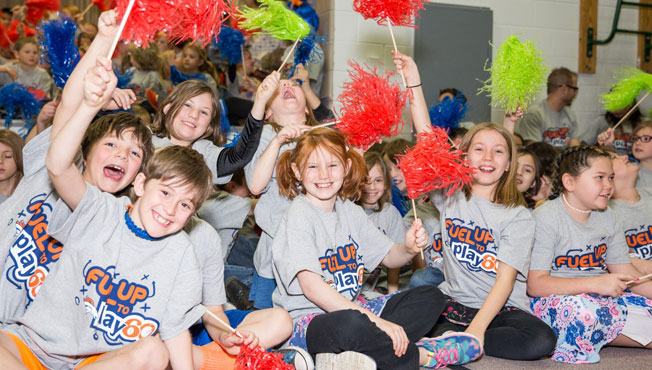 As the first school in the Denver area to host the Fuel Greatness Breakfast Games, Shelton Elementary was buzzing about breakfast and Fuel Up to Play 60. In celebration of National School Breakfast Week, the interactive, Olympic-style games highlighted the importance of eating a nutritious breakfast every day, as well as regular physical activity.
Dairy MAX selected Shelton Elementary in the Jeffco Public School District to host the event based on their high level of Fuel Up to Play 60 engagement, having reached Touchdown status for three consecutive school years. Shelton has also demonstrated their dedication to providing students with a healthy start to the day through high school breakfast participation.
To start the day's event, Shelton's Fuel Up to Play 60 Student Leadership team of 15 students started their morning eating breakfast with Ashley Edstrom of Sugar Hill Dairy and previous Fuel Up to Play 60 Player Ambassador Virgil Green. After breakfast, the whole school gathered in the gym to hear important messages about breakfast nutrition and cheer on their Fuel Up to Play 60 team in the Breakfast Games obstacle course.
Both Edstrom and Green shared the importance of a healthy breakfast with students and how it helps them get their busy days started right. Edstrom also spoke to students about her passion for dairy farming and how she works every day to provide nutritious dairy for them to eat and drink. Virgil also spoke on behalf of the Denver Broncos, educating students on why they should eat a healthy breakfast every day to succeed. Learning about the importance of how a healthy diet can fuel your mind and body from a professional football player was a great reminder to students to ensure they understand why eating breakfast every day matters.
Also present at the event were representatives from several organizations working to improve child health and wellness alongside Dairy MAX, including the US Department of Agriculture, Colorado Department of Education, Colorado PTA, Colorado Action for Healthy Kids, Hunger Free Colorado, City of Golden, Jeffco Public Schools, and Denver Broncos Organization.
The Breakfast Games is yet another in a long line of Fuel Up to Play 60 efforts, like Miles Assemblies, that create a fun atmosphere to empower students with nutrition knowledge and help influence them to make positive nutrition decisions. To learn more about Fuel Up to Play 60 and get started at your school, find your wellness consultant here!
Check out the video about the event from Jeffco Public Schools on Facebook!