Social Media Brings the Farm to Your Smartphone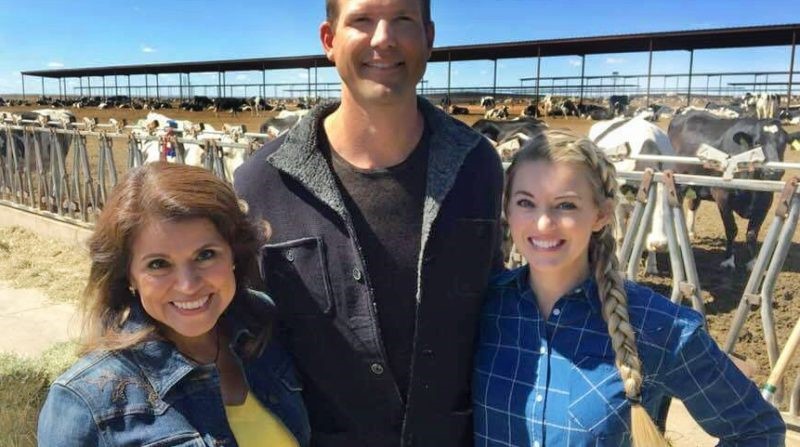 You've heard it before: farmers need to connect with the public to find common ground and share stories. Most dairy farm families agree with this and want to, but often, life on the farm is busy, and dairy farms aren't exactly located in the most heavily-populated regions of the country. With advancements in technology and the continued increase in social media, these limiting factors are less of an issue.
In efforts to connect the public with more dairy farmers and where dairy foods come from, Dairy MAX teamed up with celebrity dairy advocates to discuss dairy in their daily roles by broadcasting the stories digitally. For the first time in 2018, Dairy MAX not only continued this series, but also used a two-pronged approach of a satellite media tour combined with a Facebook Live Question and Answer right from the heart of a dairy farm. The satellite media tour focused on debunking common dairy myths with Dr. Travis Stork, host of "The Doctors" TV show, and Dairy MAX's Lana Frantzen, Ph.D., spokesperson and vice president of health and wellness.
"This was a great opportunity and really amplified the authenticity in what we discussed," says Frantzen. "Dr. Stork is notable for his TV role, as well as having been an emergency room physician, and has written several books on nutrition and dairy as part of his everyday life. We simplified and debunked common myths with science and facts in a way that was natural and authentic to his regular viewers."
Dr. Stork and Frantzen spoke to media outlets across the country from a dairy farm in Clovis, New Mexico. They discussed health benefits of dairy, which types of dairy foods are best for an active and healthy lifestyle and how to incorporate dairy into a nutritious diet. For example, they highlighted lactose intolerance doesn't mean you can't eat any dairy foods. Dr. Stork shared how he enjoys dairy in his daily routine from cream in his morning coffee to yogurt and kefir as one of his favorite dairy foods.
The satellite media tour resulted in more than 92 million impressions with positive comments from several media outlets complimenting the information and farm visual. You can see a clip from one of the regional media outlets here.
Following the media tour debunking common dairy nutrition myths, Dr. Stork went Live on Dairy MAX's Facebook page with Tara Vander Dussen, a fifth-generation dairy farmer and environmental scientist. Tara and her husband operate their family dairy farm in New Mexico, and you can find Tara online as the New Mexico Milkmaid, sharing dairy stories, family, recipes and more.
The Facebook Live from the dairy farm with Dr. Stork and Vander Dussen was the first time for Dairy MAX to go live right in the middle of a dairy farm, but the positive reaction indicates what a success this was. The public not only got to see what life on a dairy farm is like, but going live also took away a lot of the mystique and unknown for something not many get to see or experience daily in urban areas.
Elizabeth Hurst, director, corporate communications says, "this was unlike previous virtual farm tours as when you're live, there is no pre-recording and it adds a level of authenticity and boosts trust. We were able to take questions from viewers in the moment and answered several questions about cow care."
The Facebook Live, which can be viewed here, reached more than 74,000 people, with more than 14,000 views, 2,300 post reactions, comments and shares, and boosted Dairy MAX's following by 159. "Not being a dairy person, I learned a lot," exclaimed one viewer.
We all know dairy farmers care about their cows, their livelihood and their communities, and Dairy MAX is committed to helping share dairy farmers' stories, building consumer confidence and connecting consumers with dairy farmers. As part of this this commitment, Dairy MAX can successfully spread a positive message about what life is like on a dairy farm directly to the palms of consumer hands on their smartphones.