Take the School Breakfast Challenge for This Year's National School Breakfast Week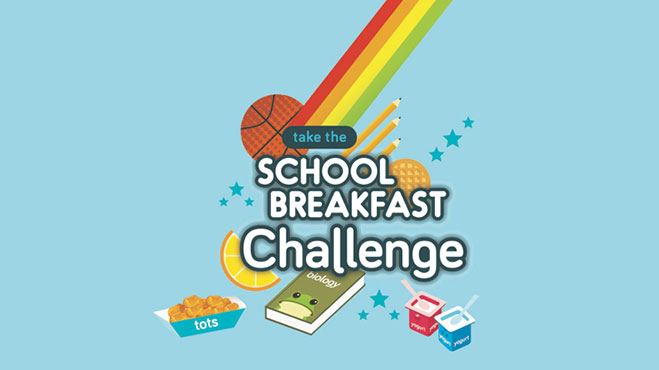 It's almost that time of year again – get ready to sing the praises of school breakfast during this year's upcoming National School Breakfast Week (NSBW), a weeklong celebration of school breakfast. Officially, the event takes place March 6-10, but if your spring break falls on that week, feel free to host your event any other week in March!
This year's theme, "Take the School Breakfast Challenge," encourages parents, students and school officials to start their morning with a healthy breakfast. We all know that breakfast is a healthy and affordable way for kids to start the day – children who eat breakfast are more likely to:
Have better concentration.
Be more alert.
Participate in class.
Have fewer absences.
Drink more milk and eat more fruit daily.
Maintain a healthy weight.
NSBW also helps your school:
Increase student participation in school breakfast.
Spread the healthy-school-meal message to parents.
Earn media coverage from local papers, blogs and TV stations.
Spread the word to teachers in your school and district that school meals are healthy.
The School Nutrition Association provides everything you need! Visit the event website to find:
Handouts for kids and parents.
Social media templates.
Marketing and PR resources.
Dairy has always been an important component in the National School Breakfast Program! Dairy MAX also has many resources you can use for NSBW, including our Milk Promotion Kits, with posters, stickers and other promotional materials. Contact your local Dairy MAX school representative about getting these kits and other free marketing materials.
Dairy is a big part of powering students through the school day, so take the School Breakfast Challenge this year and make it #DairyAmazing!