Three-A-Days: Dallas Cowboys and Dairy MAX Team Up on Nutrition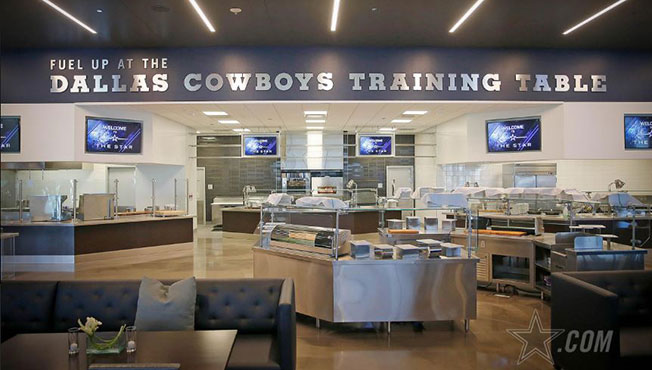 Ever since The Star opened, it's been abuzz with fans. A 91-acre campus in fast-growing Frisco, The Star hosts the Dallas Cowboys World Headquarters, where the Dallas Cowboys train and work 365 days each year. The Star also gave the Cowboys the opportunity to partner with organizations that share their health and wellness values, including the City of Frisco, Frisco ISD and Dairy MAX. Dairy MAX had already partnered with the Cowboys through Fuel Up to Play 60, empowering youth to develop lifelong healthy habits. With the new Ford Center at The Star, Dairy MAX has partnered with the Cowboys in a whole new way.
Excited to check out The Star? VIP guided tours allow fans to experience all the history of the franchise including unique Super Bowl memorabilia and significant milestones as well as the day-to-day life of today's Cowboys.
One of the best things about the tour is learning how the team trains. As a registered dietitian nutritionist, I'm always curious about what they eat.
The Cowboys and Nutrition
Nutrition is a big piece of the Cowboys game plan and a feature at The Star. The foods players choose directly impact how they perform on the field. Scott Sehnert, MS, RDN, LD, director of sports performance for the Dallas Cowboys, ensures the team gets all the nutrients they need to win.
"A proper fueling plan can make an average athlete elite, and a poor fueling plan makes an elite athlete average," he said. "Nutrition plays such a direct role in how prepared an athlete can be for training and competition. It's not just about a sound game plan and practice of it; you need to be well-fueled for it, and recover optimally from it."
With our science-based approach to nutrition, Dairy MAX was the perfect choice to become the Official Nutrition Partner of the Dallas Cowboys, acting as a nutrition expert for the Cowboys health and wellness platform by educating more fans on dairy's role in the Dietary Guidelines for American 2015-20 through MyPlate as they tour the facility. All these items impact the meals that the team and the Cowboys staff share each day.
Fuel Up Training Table is where all the players, coaches and Cowboys staff eat. They serve breakfast and lunch, and occasionally dinner options for coaches working later into the evenings. Because nutrition is really important to the Cowboys, they offer plenty of options at five stations: the grill, made-to-order station, rotisserie, and even frozen yogurt, plus grab-and-go meals for when people are in a hurry. Anyone looking for new ways to get their three daily servings of dairy has a few different options:
Custom-made smoothies made with real cow's milk.
High-protein milk drinks available to players and coaches.
Dedicated coolers full of milk, cheese and yogurt for those on the go.
And all that dairy adds up. Each month, the Cowboys fuel performance with 220 pounds of cheese, 200 pounds of yogurt and 450 pounds of milk. That's more than a quarterback, a kicker and two running backs combined.
Outside The Star
The impact of a healthy diet extends beyond The Star facility as players embrace dairy and a healthy diet. Essence Riley, Dairy MAX health and wellness program manager, offices at The Star and shares her two favorite player stories:
"Cowboys center Travis Frederick is from Wisconsin and they consume a lot of dairy there," Riley said. "In high school, he broke his arm during football season and the doctor told him he needed six to eight weeks to heal. Not satisfied with that answer, Frederick made drinking milk a priority and he feels it aided in a speedy recovery of just four weeks!
"Cowboys safety Barry Church suffered an injury in 2012. His trainer told Church that if he wanted to stay in the NFL he needed to rehab his injury and rehab his diet. Church focused on getting healthy foods on his plate including dairy, fruits, vegetables and whole grains."
So the next time you're at the dairy case, know that milk you drink is not only fueling you, but America's team too!
Learn more about dairy and the dietary guidelines, and why chocolate milk is nature's sports drink!