Top 5 Reasons I'm Thankful I Attended the 2nd Annual BUILT Sports Nutrition Seminar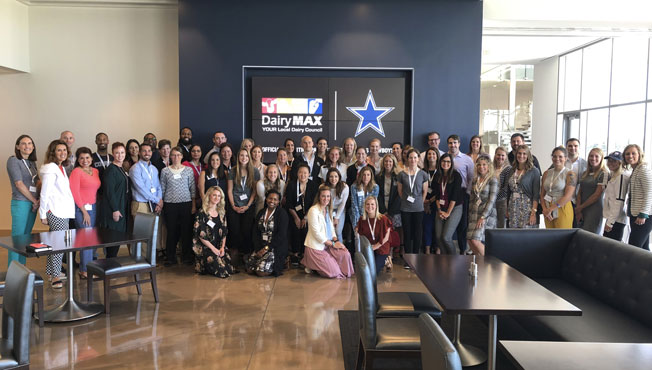 Last year, several of my colleagues were invited to, and chose to attend, a seminar hosted by Dairy MAX…and raved about it! I was thrilled when the invite popped up in my inbox this year. The BUILT Seminar brings together leading experts in sports nutrition research and culinarians for a day full of learning. I loved how we learned the updates in the science as well as practical applications to share with our athletes—here are the top 5 reasons to attend: 
Latest Easy-To-Digest Science (Pun Intended!)
Nationally recognized speakers provided sports nutrition updates. Two highlights included the next frontier in nutrition—the human microbiome—and refreshing take on the concept of protein quality over protein quantity as the key to maximizing health and wellness for people of all ages and activity levels.
Emphasis on Practical Applications for Your Clients
For every bit of challenging, evidence-based science presented, there's an equally beneficial practical application to take with you. A personal favorite of mine this year was learning how to prepare a burger recipe that incorporates vegetable puree, similar to this recipe. While my first stab at it was likely nowhere near as delicious as the one made by chef Todd Seyfarth himself, I was able to take information directly from his presentation and immediately apply it. Chef Seyfarth's culinary background at Johnson and Wales as well as his Certified Specialist in Sports Dietetics (CSSD) was a powerful combo I enjoyed seeing in action.
There's Something for Everyone
I had the pleasure of meeting registered dietitian nutritionists from all over the country, representing all sorts of practice areas from collegiate sports nutrition and sports medicine clinics to private practice and regional dairy councils. Topics covered that day had relevance in many different areas. A focus on food was beneficial for all our clientele. Whether an athlete or casual exerciser, most Americans would benefit from eating a little more protein. Learning new culinary methods can help all of us eat a little healthier.  
Networking
Although there is a good deal of time spent in sessions, there was plenty of time for networking. I was able to catch up with people I'd met before, make new acquaintances, and even enjoy lunch with one of the speakers to pester her with follow-up questions.
#DairyAmazing Hospitality
This was the second Dairy MAX event I've attended, and both times I've been blown away by the quality of the events. There's a good balance of time spent learning, time spent networking and catching up with colleagues! 
Regardless of where you're traveling from, which area of practice you represent, and what your professional goals are, there's one thing for certain—you won't regret RSVP-ing YES to the next Dairy MAX event!