Undeniably Dairy Kicks Off With Farm Tour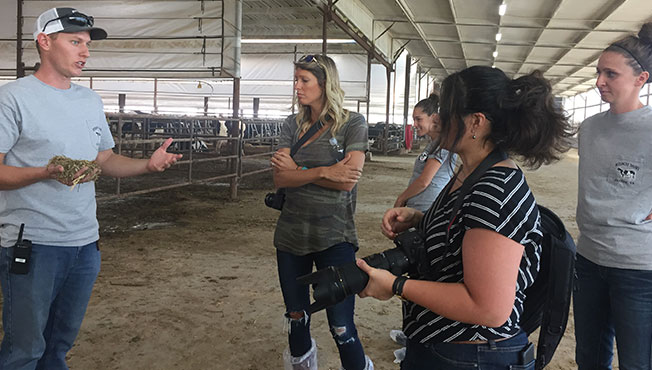 Undeniably Dairy, a multiyear initiative, was created by Dairy Management Inc. (DMI) and the Innovation Center for U.S. Dairy, to engage and educate consumers about where their food comes from. The initiative focuses on four central topics:
Responsibility produced
Locally driven
Nutrient-rich
Real enjoyment
The initiative has several components to reach consumers including a partnership with Discovery Education, USA Today, the Food Network and working directly with influential bloggers to share dairy recipes as well as their experiences on a dairy farm. Dairy MAX had the opportunity to host two bloggers, Joyful Healthy Eats and En Mi Cocina Hoy, on a farm tour at Wildcat Dairy. Krista with Joyful Healthy Eats creates fun, accessible recipes using real ingredients with a focus on seasonality.
Krista grew up in the Midwest, but had never been to a dairy farm before. Pillar with En Mi Cocina Hoy is a bi-lingual Latina food blogger with a South American heritage. Pillar's blogs focus on large amounts of Chilean food with American ingredients. Pillar loves gardening and runs several large community vegetable gardens, she also had never been on a dairy farm.
The bloggers, Krista and Pillar, just two of ten bloggers from across the country who are partnering with DMI to share dairy's story with their followers. Each of the bloggers was asked to engage with their readers with a unique message that told the dairy story using one or more of the four content pillars; responsibly produced, locally driven, nutrient rich and real enjoyment. Combined these bloggers had the potential share a positive dairy story with over 17 million consumers.
Krista and Pillar, both based out of the Houston area, experienced a day on at Wildcat Dairy where the Volleman family hosted the bloggers as well as several members of the DMI and Dairy MAX team. The bloggers had an opportunity to tour the milking parlor, cross vent freestall barn, and learn about how dairy farming feeds families across our region. After the tour, the group gathered in the office to sample tasty dairy treats and discuss life on the farm.
According to Kaci Creel, senior director, consumer confidence and strategic communications, "Consumers are now more interested than ever in knowing where their food comes from. Krista and Pillar's dairy farm tour shows the dairy industry's transparency from beginning to end. The bloggers will take what they saw on the farm and share those details with their readers. This blogger tour allows us to build dairy industry advocates and helps tell the positive dairy story."
Both bloggers created a featured blog showcasing their time on the dairy and will be sharing images of their tour. The blogs bring awareness to consumers of how dairy products are responsibly getting from the farm to their table. Also, the blogs will put a face to the farmers who work hard daily providing nutritious and sustainable food to feed consumers throughout our region. Our time with Krista and Pillar created dairy advocates who will undeniably spread positive dairy recipes and messages with their readers. Check out Krista and Pillars blogs!