Whole-Fat Dairy and Healthy Eating: The Latest Research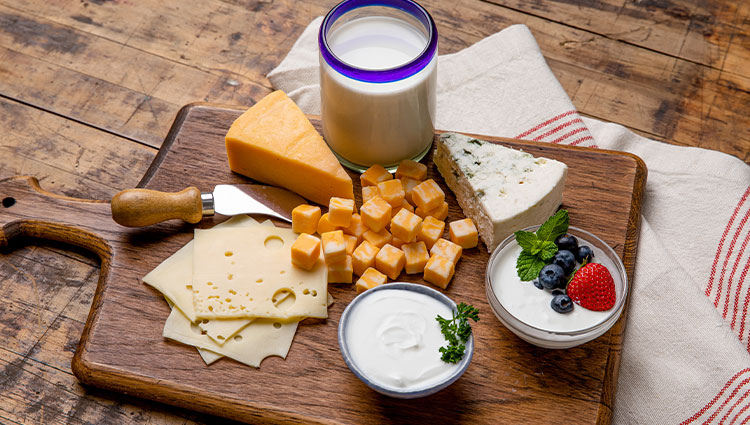 As interest in healthy fats continues to trend, what is the research saying about whole-fat dairy? Can it be a part of healthy eating patterns?
The short answer is "yes." The key lies in balancing calories and staying within saturated fat recommendations. Here's the full scoop.
Dietary Patterns Support Dairy Foods and Fat Flexibility
The 2020-2025 Dietary Guidelines Advisory Committee concluded in their July release of the scientific report – the report that informed the final 2020-2025 Dietary Guidelines for Americans (DGA)– that dairy foods play an important role as both a food group as well as a key part of healthy eating patterns. And while the saturated fat recommendations remain at 10% of calories or less (at least for this current iteration of the DGA), the tide may be shifting as the science continues to evolve on whole-fat dairy foods and health.
The shift to more fat flexibility is already happening as demonstrated by the actions of consumers and leading health organizations:
Emerging Evidence: Saturated Fat Consumption May Not be Linked to Cardiovascular Disease Risk
For over 30 years, the DGA have recommended limiting saturated fat intake – due to its associations with heart disease and stroke risk – and the original diet-heart hypothesis that saturated fat increases LDL cholesterol. However, observational evidence over the last 10-plus years indicates that saturated fat may not be directly associated with cardiovascular disease risk; the story appears to be much more complex.
As the research continues to grow, there is a preponderance of evidence linking milk, cheese and yogurt (regardless of fat level) with lower risk of chronic diseases, such as Type 2 diabetes and cardiovascular disease. Dairy's role in cardiovascular and metabolic health was recognized by the Dietary Guidelines Advisory Committees in 2010, 2015 and 2020. Here are a few highlights from recent studies:
Undeniably Dairy: A Nutritionally Complex Food
As more research comes out about whole-fat dairy foods, specifically as it relates to cardiovascular and metabolic health, it's natural to question how dairy fats differ from other saturated fats and what other evidence could help explain some of these findings. Dairy fat is unique and complex, containing over 400 different types of fatty acids. Among the saturated fatty acids, dairy fat contains short-, medium- and long-chain fatty acids from four to 18 carbons in length. All these fats have different biological effects that contribute to the complexity of our favorite dairy foods. Dairy foods also contain additional components – such as protein, vitamins, minerals and bioactive compounds – that may modulate the effects of dairy fat on cardiovascular disease biomarkers and risk.
Many people don't meet the recommended daily dairy servings. Because dairy's nutrition can be hard to replace with other foods for similar calories and price, it's important to help people meet their daily recommendations – even if the choice is whole-fat dairy foods.
Emerging science and evolving recommendations from leading health organizations begin to emphasize the point that the quality of the foods making up healthy eating patterns is what is most important. Thus, nutrient-rich whole milk, regular cheese and whole-milk yogurt can be part of calorie-balanced, healthy eating patterns.
Learn more about the health benefits and science of dairy foods. Explore our favorite recipes with dairy.