The Emergency Food Assistance Program (TEFAP)
This USDA program provides more than $867 million in federal funds to allow food banks, food pantries, soup kitchens and similar organizations to purchase food from approved vendors then store and distribute that food to low-income Americans in emergencies, such as COVID-19.
The USDA Agricultural Marketing Service (AMS) determines overall federal funding, policies and programs. The regional offices of the USDA Food and Nutrition Service (FNS) then determine how that funding will be allocated based on the number of people in each state who are unemployed or below the poverty level. USDA State Distributing Agencies submit plans to the regional offices, determining the types and amounts of food they will distribute based on the needs expressed by local agencies or any organization that distributes food directly to people, either for household use or prepared and served in a congregate setting.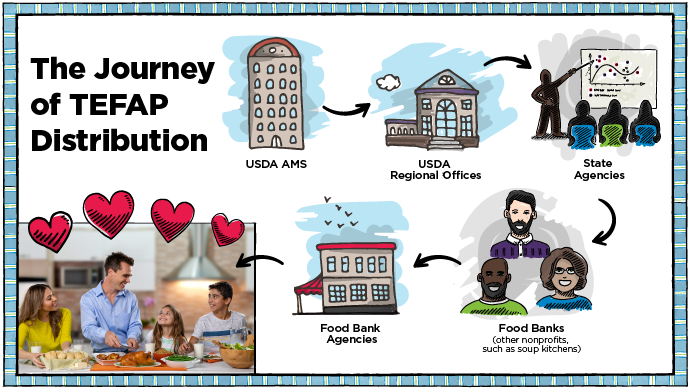 Who can apply?
Distributors and community organizations – such as food banks, food pantries, soup kitchens, shelters and churches – can become local TEFAP agencies.
Processors can apply to provide food as vendors:
You must be a USDA qualified bidder
Commodities must be 100% U.S. grown
Once you become a qualified bidder:

You must renew at SAM.gov every year. If it has been more than three years since you've submitted a bid, you'll need to update SAM.gov registration and provide updated audited or reviewed financials (SAM Help Desk: 1-866-606-8220).
If you don't log into WBSCM after one year, the system will lock down. To regain access, contact Andrea Lang (NewVendor@USDA.gov) and the WBSCM Help Desk (WBSCMAMSHelpDesk@USDA.gov).
How distributors and food banks can apply
Contact your State Distributing Agency to learn how to become a TEFAP local agency.
Work with your state agency to modify your TEFAP contract and program agreement.
Measure and calculate the amount of perishable milk you can accept and store on a regular basis.
Develop a strategy and plan for distributing a high volume of perishable milk through your food bank network or nonprofit organization.
How processors can apply
Become an approved USDA vendor. Vendor applications are accepted on a rolling basis; allow 3-4 weeks for approval.
Visit USDA's Web-Based Supply Chain Management (WBSCM) system to find solicitations to purchase food. AMS uses two types of solicitation: the "Invitation for Bids" (IFB) and the "Request for Proposals" (RFP). Each solicitation describes USDA's needs in terms of the product, volume, destination (city/state) and delivery window.
Submit an offer to fill the demand.
If application is accepted, a contract will be awarded.
The contractor will provide food to local agencies as outlined in the bid or proposal.
Once the contract is successfully performed, the contractor must submit an invoice via the WBSCM system, and the AMS will approve and pay it.
Additional Information
Processors should communicate with food banks directly:

Outline logistics in detail. Not all TEFAP state agencies share the same amount of logistical information with food banks.
Before service begins, agree on how crates will be returned.
Align on a delivery schedule. Not all food banks can handle the same delivery sizes. Generally, smaller and more frequent deliveries are easier to move.
Many food banks and agencies have limited cold storage and refrigeration trucks. Solutions such as mobile pantries can help in urban/underserved regions.
Securing funding for distribution support from USDA and the private sector is critical.
Work together to share the impact of purchases, including program feedback.

TEFAP is a component of USDA's trade mitigation programs, as a part of the Food Purchase and Distribution Program (FPDP), to help farmers suffering from damage due to unjustified trade retaliation by foreign nations.
Resources
Questions about this program?
For support on becoming a USDA vendor:
Andrea Lang
New Vendor and Small Business Coordinator
202‐720‐4237 or NewVendor@USDA.gov
Caroline Russell
Agricultural Marketing Specialist
For other questions:
Program details are updated often. Please check back frequently.
Last updated: Sept. 10, 2020