Protein Box With Nutty Yogurt Dip
1 oz
Meat / Meat Alternative
Ingredients
20 Servings
1 quart and 3 cups yogurt, Greek, vanilla, fat-free
1 cup nut/seed/soy butter
10 each bagels, WGR, 2 ounces equivalent
5 pounds and 10 ounces fresh oranges, whole
100 Servings
2 gallons and 3 cups yogurt, Greek, vanilla, fat-free
1 quart and 1 cup nut/seed/soy butter
50 each bagels, WGR, 2 ounces equivalent
28 pounds and 2 ounces fresh oranges, whole
Nutrition Facts
per serving
Calories: 267
Protein: 12.85 g
Carbohydrate: 39.52 g
Dietary Fiber: 6.52 g
Total Fat: 6.95 g
Saturated Fat: 0.93 g
Cholesterol: 2.38 mg
Sodium: 184.97 mg
Sugar: 22.20 g
Instructions
In a large bowl or mixer bowl with whisk attachment, combine yogurt and nut butter. Whisk until light and fluffy.

Critical Control Point (CCP): No bare-hand contact with ready-to-eat food.

With the bagel lying flat on the table, slice it in half.
Wash the fresh oranges and slice into wedges.
Assemble the protein box by using a #10 disher to portion the Nutty Yogurt Dip, bagel and wedged orange.

CCP: Hold at 41° F or below.
Tips
Nutty Yogurt Dip may be prepared the day before service and held at 41° F or below.
Use the Protein Box Recipe Build for additional ideas.
One protein box provides 1 ounce eq WGR grain, 1 ounce meat/meat alternative and 1/2 cup fruit.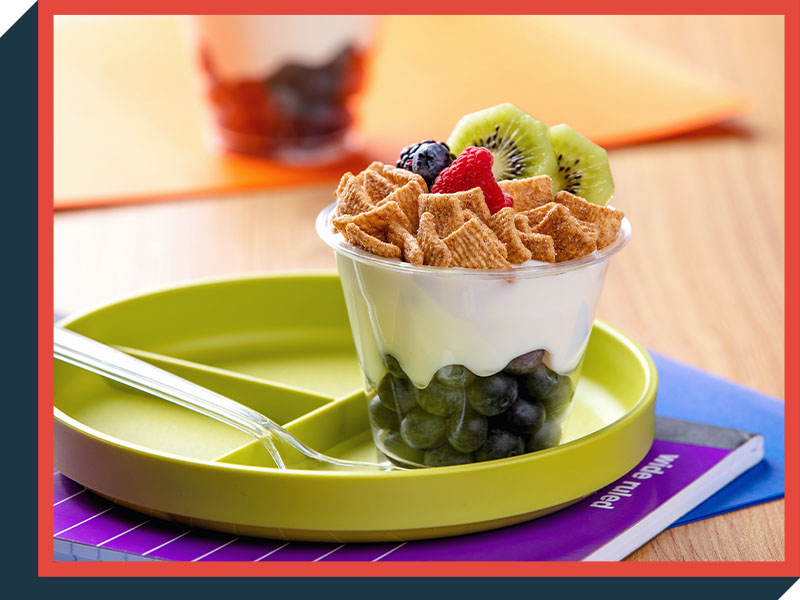 For next steps on promoting and implementing these delicious breakfast recipes, download the full Breakfast Toolkit!
Download