Spicy Smashed Chickpea Salad
2 oz
Meat / Meat Alternative
Ingredients
21 Servings
2 #10-cans chickpeas, low-sodium
2 cups yogurt, Greek, plain, low-fat
¾ cup mayonnaise
¼ cup sriracha
2 tablespoons lemon juice
1 teaspoon garlic, granulated
¾ teaspoon salt
¼ teaspoon black pepper
¼ teaspoon cayenne pepper
4.4 ounces celery, ¼" diced
1.6 ounces onion, red, raw, ¼" diced
0.4 ounces cilantro, fresh, chopped
42 Servings
4 #10-cans chickpeas, low-sodium
1 quart yogurt, Greek, plain, low-fat
1 ½ cups mayonnaise
½ cup sriracha
¼ cup lemon juice
1 tablespoon garlic, granulated
1 ½ teaspoons salt
½ teaspoon black pepper
½ teaspoon cayenne pepper
8.7 ounces celery, ¼" diced
3.1 ounces onion, red, raw, ¼" diced
0.8 ounces cilantro, fresh, chopped
Nutrition Facts
per serving
Calories: 163
Protein: 6 g
Carbohydrate: 15 g
Dietary Fiber: 4 g
Total Fat: 10 g
Saturated Fat: 1 g
Cholesterol: 8 mg
Sodium: 241 mg

Instructions
Critical Control Point (CCP): No bare-hand contact with ready-to-eat food.
Drain and rinse the chickpeas in a colander.
Transfer the chickpeas to a large bowl and use a potato masher to smash them until no whole beans remain.
In a separate bowl, combine the Greek yogurt, mayonnaise, sriracha, lemon juice, granulated garlic, salt, black pepper and cayenne. Add the mashed chickpeas, celery, onion and cilantro. Mix gently until all ingredients are combined.

CCP: Hold the Spicy Smashed Chickpea Salad at 41° F or lower.

Use a #8 disher to add 1/2 cup of Spicy Smashed Chickpea Salad to a bento box.

CCP: Hold and serve the bento box at 41° F or lower.
Tips
See Marketing Guide for purchasing information on foods that will change during preparation or when a variation of the ingredient is available.
A #8 disher provides 2 ounces meat/meat alternative and ¼ cup legumes.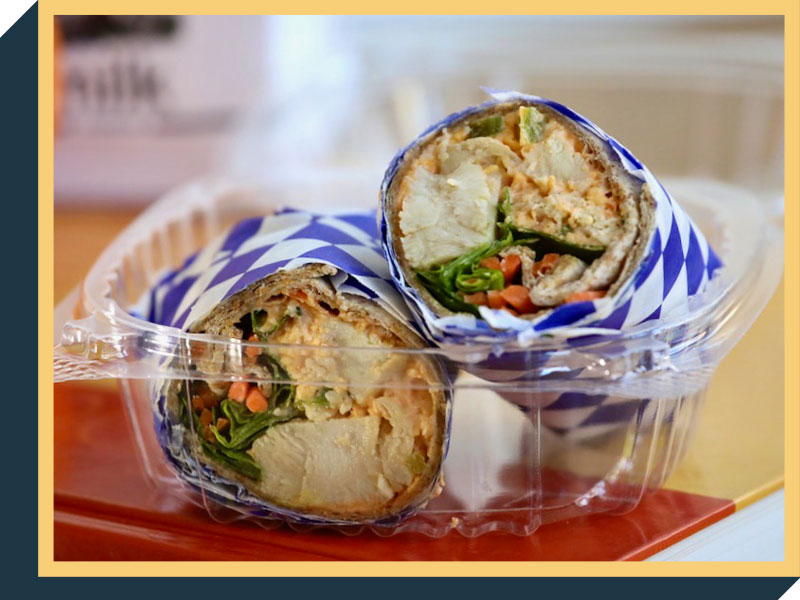 For next steps on promoting and implementing these delicious lunch recipes, download the full Lunch Toolkit!
Download