Busy schedules – both at home and at schools – can keep students from eating breakfast, meaning they start their day undernourished and unprepared. Grab and Go Breakfast (also known as Second Chance Breakfast) makes it incredibly easy for students to get breakfast on the go, increasing the likelihood that they eat this important meal.
Benefits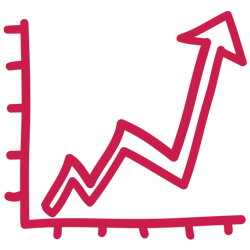 Increased Child Nutrition Revenue – On average, schools that implement Grab and Go breakfast see an increase to 59% breakfast participation.

Better Performance on Standardized Tests – Eating breakfast can improve a students' standardized test scores by an average of 17.5 points.

Better Attendance – Serving breakfast after the bell can reduce absenteeism by an average of 6 percentage points.
How Does it Work?
Serving breakfast in high-traffic areas – such as student drop-off or main hallways – increases accessibility, reduces serving time and often results in increased breakfast participation. Meals are served from a mobile cart, making transportation from the cafeteria to these locations easy and efficient. Disposable packaging and strategically placed trash cans help minimize cleanup for staff.