5 Reasons Your School Should Serve Smoothies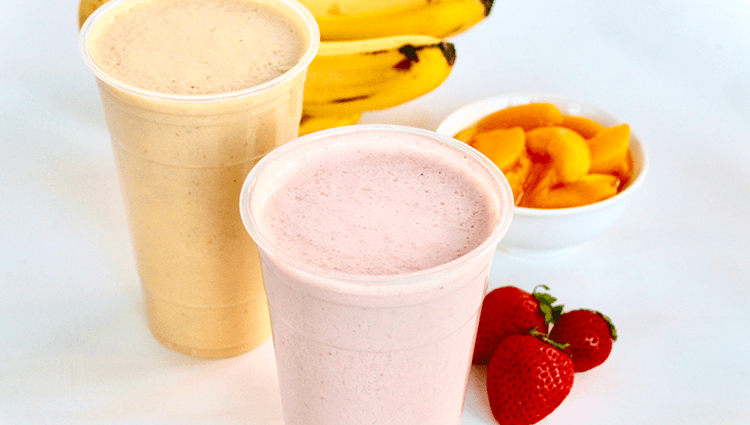 Are you looking for a way to refresh your menu and increase participation? Smoothies are a great menu addition and a nutritious grab-and-go option that students love. Smoothies can also count as reimbursable meals, either on their own for older students or when paired with a few other items for younger students. Check out the other benefits of adding smoothies to your program:
1. Health Benefits
Made with yogurt, milk, fruit and sometimes other healthful add-ins, smoothies offer a variety of health benefits for growing kids. 
Dairy

Dairy foods – such as yogurt and milk – provide protein, vitamins, calcium and other minerals. In fact, dairy is the number one source of calcium in the American diet and is important for building strong bones and teeth. Yogurt, specifically, is also rich in probiotics, which can improve gut health and benefit the immune system. 

Fruit

Fruit is rich in vitamins, minerals, fiber and disease-fighting phytochemicals. Different colors of fruits provide different benefits, so serve a variety of smoothie colors! Use fresh fruit that is in season, bananas that are too old to serve on the line, canned fruit and/or frozen fruit, which is frozen at the peak of ripeness when it contains the most nutrients. 

Add-ins: Greens and Nut Butters

Smoothies are a great way to sneak dark leafy greens into your students' diets! Spinach provides the mildest flavor; kale can also be a good option for more developed taste buds. Nut butters add a boost of protein and healthy fats, helping sustain energy throughout the day.
2. Easy Preparation
Smoothies are easy to make – just weigh, dump and blend! Make large quantities by using an immersion blender and a 5-gallon bucket. Hold the immersion blender in the most ergonomic position for your height, whether that is on the counter or on a box or crate at least 6 inches off the floor. If serving smoothies to order, a stand blender will do the job.
3. Menu Flexibility
Smoothies can be served at breakfast and/or lunch and can easily be adapted to provide the desired number of items or components. 
Breakfast

Prepare each serving with ½ cup yogurt and ½ cup fruit to provide two meal components. Pair with a whole grain–rich item to make a complete meal! To credit as three items, make each serving with ½ cup yogurt, 1 cup milk and 1 cup fruit.

Lunch

For grades 9-12, you can make a reimbursable meal with 1 cup yogurt, 1 cup milk and ½ cup fruit to provide two full meal components plus a ½ cup fruit.

A la Carte

While providing smoothies to students on the regular serving line is ideal, offering them a la carte – at a coffee bar or on the line – is also a healthy option and a great way for students to fuel up for success.
4. Convenient Consumption
Students are usually in a hurry; they are either running late or rushing to get to the table to chat with friends. Smoothies offer a convenient grab-and-go option. Pairing the smoothie with a whole grain offers students a nutritious full meal. Add lids and place in 2-inch or 4-inch-deep pans to transport to the classroom for Breakfast in the Classroom or to offer as a Second Chance Breakfast.
5. Popular With Students
You won't find many students who dislike smoothies. With the abundance of smoothie offerings on the market (e.g., coffee bars, smoothie shops, grocery stores, etc.), students encounter smoothies frequently. Students want to see their favorite restaurant foods in the cafeteria, so they will be excited to see smoothies on the line!
Need resources to incorporate smoothies into your school menus? Check out the Nutrition NOW Smoothies page or contact your local Dairy MAX School Wellness Consultant.