Building Trust and Sales in Dairy Through Research and Promotion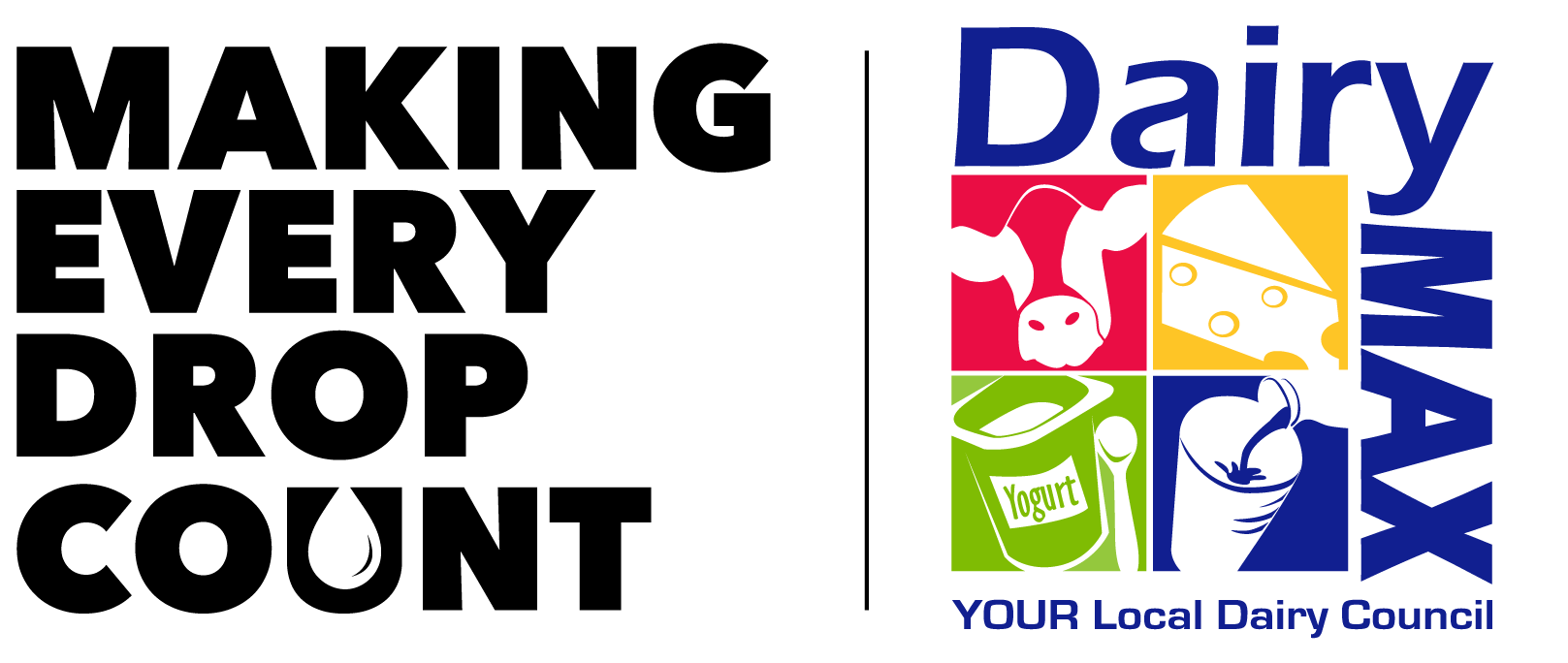 Making Every Drop Count
Dairy farmers dedicate themselves to ensuring each drop of milk not only provides families with optimal nourishment but also reaches the consumers in the most ethical and sustainable manner. While farmers focus on production, state, regional, and national checkoff programs were created by dairy farmers to build trust and sales of dairy through research, product promotion and education.
Making Every Drop Count is a federation-wide effort to raise awareness of the dairy checkoff, its programs, and results with farmers who invest in the checkoff. It's Dairy Management Inc. (DMI), National Dairy Council (NDC), state and regional promotion organizations like Dairy MAX, and the international marketing affiliate, the U.S. Dairy Export Council (USDEC), working collaboratively to show the power of the full 15-cent impact of farmers' investment to dairy checkoff.
Over the past 30 years, the dairy checkoff has witnessed significant social shifts, prompting corresponding changes within the dairy industry and its checkoff programs. Checkoff funds have been utilized to engage consumers where they are – online and on their smartphones.  Trust is cultivated through research, educational initiatives and meaningful conversations, all geared toward fostering both short-term and long-term change.
DMI and the state and regional promotion organizations operate under the principles of the Unified Marketing Plan to contribute to these efforts.  A testament to this progress is the notable increase in U.S. dairy per capita consumption, rising to 661 pounds (milk equivalent, milkfat basis) in 2021, compared to 572 pounds (milk equivalent, milkfat basis) in 1995. This upward trajectory underscores the industry's resilience and its ability to meet the changing needs and preferences of consumers.
The checkoff's efforts extend into various sectors. In food service, partnerships with industry leaders like Domino's, McDonald's®, Taco Bell® and the recent collaboration with Raising Cane's focus on driving immediate sales and paving the way for innovation and growth.
According to the 2022 DMI Annual Report, these restaurants have consistently experienced a 3 percent average annual growth since the inception of these partnerships. This consistent growth has resulted in a remarkable addition of over 2.3 billion pounds annually, contributing to a total of more than 9.6 billion pounds of dairy sales per year. Additionally, in 2022 alone, these collaborations led to the introduction of 32 new dairy-based product innovations, with 21 at the national level and 11 at the local level.
On the international front, the U.S. Dairy Export Council, largely funded by the dairy checkoff, set records in dairy export volume and value, contributing significantly to the industry's growth. According to the recently released 2022 Annual Report by DMI, the United States set new records for dairy export volume reaching 2.4 million metric tons (milk solids equivalent), valued at $9.6 billion. In 2022, U.S. dairy exports accounted for a remarkable 18 percent of total U.S. production. This achievement marked the third consecutive year of record-breaking volume and the second consecutive year of value growth.
In the health and wellness sector, the National Dairy Council collaborates with Mayo Clinic to explore research and consumer outreach that improves public health and advances dairy's benefits. Specifically, this delves into understanding the potential role of full-fat dairy in cardiovascular and metabolic conditions. By exploring and supporting research in this area, the National Dairy Council and Mayo Clinic are at the forefront of advancing knowledge about the health implications of dairy choices, contributing valuable insights to public health discourse, and encouraging informed dietary decisions.
Amazon, a leading player in the e-commerce landscape, collaborates closely with DMI, relying on their expertise for natural cheese and fluid milk. This partnership serves as a cornerstone for driving consumer engagement and market understanding, crucial for boosting dairy sales. Their efforts share consumer and market insights to drive dairy purchases. In 2021, natural cheese sales on Amazon experienced a growth of 13.3 percent, while fluid milk sales saw a substantial increase of 8.3 percent.   These figures underscore the effectiveness of the strategic alliance between Amazon and the dairy checkoff, indicating a growing consumer preference for dairy products online.
The work of a dairy farmer is never done, and neither is that of the dairy checkoff. Both local and national leadership are evaluating past strategies and exploring new avenues to modernize the checkoff, guaranteeing its continued influence both domestically and internationally. Together, the dairy industry will continue to innovate and collaborate, ensuring every drop counts today, tomorrow and for generations to come.
"Dairy MAX is committed to maximizing the impact of the contribution made by our farmers," said Marty McKinzie, chief growth officer for Dairy MAX. "Continuous advances in innovation, growth and sales remain our constant focus so that dairy will always have a place on the table."
To learn more about Dairy MAX visit www.DairyMAX.org. For the latest updates on Dairy Management Inc. and to read the 2022 Annual Report, visit www.usdairy.com.