Celebrating a Month of Giving Back with Passion for Pints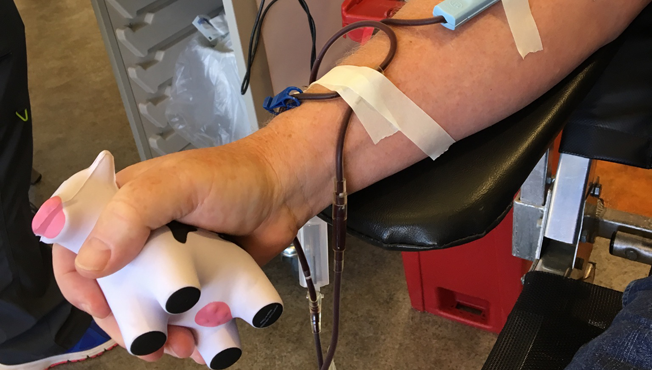 No matter the state of the industry, the dairy community rallies together every year for National Dairy Month. What started as an effort to promote drinking milk and help boost demand has become a tradition of thanking farmers across the country for the delicious dairy foods we enjoy. Parades, festivals and other events are held to celebrate all dairy brings to the table.
While these events are needed to both honor farmers and promote dairy consumption, some farmers have been celebrating National Dairy Month a bit differently. Volunteering time and service through the Passion for Pints blood drive has become an important part of their June festivities and is impacting thousands of lives each year.
Passion for Pints is coordinated by Dairy MAX, the local dairy council representing farm families in Colorado, southwest Kansas, Louisiana, Montana, New Mexico, western Oklahoma, Texas and Wyoming. Dairy MAX's Passion for Pints program began in 2013 by partnering with blood centers throughout the month of June. Summer is a time of year when blood centers need the most donations, since high schools and universities that typically host drives are on break and regular donors may be vacationing.
The month-long Passion for Pints drive takes place at designated blood center locations across the region and gives farmers the chance to boost positive dairy image in their communities while rolling up their sleeves for a good cause. When people donate blood during Passion for Pints, they receive a t-shirt and Holstein or Jersey "stress cow" for holding during the process. Farmers also offer milk or ice cream provided by local processors for donors to refuel with, instead of other recovery snacks.  
John Cass, Dairy MAX director, industry image and relations, shares that the key is giving farmers the opportunity to share their story about farm life.
"It's a two-way benefit," says Cass. "The first being the blood donations, but both dairy farmers and donors benefit by getting to learn more about each other while supporting their communities."
Just like how dairy farmers provide foods that nourish the growing population, every pint of blood donated can save up to three lives. Passion for Pints has impacted over 180,000 lives since 2013 by hosting nearly 1,500 drives in southwest Kansas, New Mexico, western Oklahoma and Texas.
This impact could not have been achieved without the help of dairy farmers like the Algers of Friona, Texas. When Sherri and Tom Alger aren't operating A-Tex Dairy with their family, they are involved in community activities and playing an instrumental role in the Passion for Pints blood drive every year. The Algers bring their community together during National Dairy Month by partnering with the Lions Club to cook hamburgers and hot dogs for blood donors to enjoy with their dairy products.
Sherri has shared her passion for dairy farming and volunteering both in-person at drives and though the media.
"Passion for Pints is a great way to give back," says Sherri. "It's a matter of bringing people together with giving spirit and having fellowship with those in your community while telling the dairy story."
And even when National Dairy Month ends, the Algers continue giving back throughout the rest of the year. The blood drive in Friona is held in the same church building where Tom also volunteers for a food pantry. Each month he helps box food for over 50 local families. He and Sherri also welcome local schools to their dairy for tours.
"I would encourage anyone in the dairy industry to get involved in their communities," says Tom. "We need to showcase our faith and that we are family-owned farms."
The dairy industry has a responsibility to tell the farm to table story, especially in a world where consumer questions about where food comes from is at an all-time high. National Dairy Month is a time to elevate that effort, but it also puts a spotlight on dairy to meet consumers where they are. According to research by Dairy Management Inc., 70 percent of consumers want to meet a farmer.
Bridging the farm to table gap is never easy, but any opportunity for people to meet a farmer face-to-face gains the most trust and boosts their confidence in dairy foods. Passion for Pints is a way to bring farmers off the dairy to share their story with others in their local community. This National Dairy Month farm families like the Algers deserve a huge thank you, not only for feeding the world, but for doing good in their local communities. 
Click here to learn more about the Passion for Pints program.