Colorado Spirit Award Winners Announced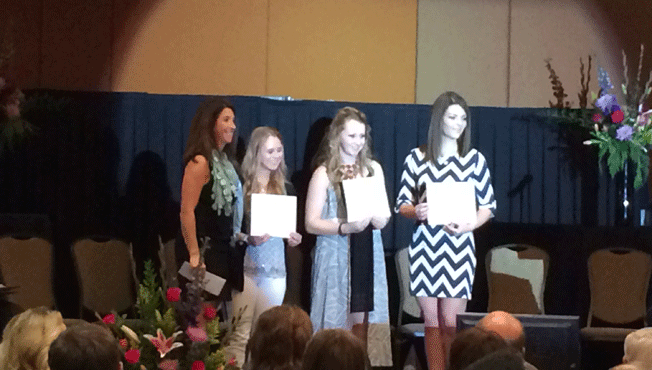 The health and wellness of the next generation has been a priority for dairy farmers for over 80 years and we are proud to work with CHSAA to promote this shared goal. This year, we worked with CHSAA to create a college scholarship - The Colorado Spirit Award - for high school seniors who are involved not only in athletic activites, but in making their community a better place.
Three runners-up for this award received a $1,000 scholarship and a grand prize winner was awarded $2,500. Read more about each student below.
Grand Prize Winner Alex W.
I first heard about the scholarship from my guidance counselor. I thought that it would be a great opportunity to help the community get involved in the milk drive since Idalia is so small we do not have milk bank and the closest one is located in Wray. I loved making a bulletin board and making flyers to get the word around about the milk drive. We had a lot of people donate money and I personally thought it was a success.
I am most proud of being involved in different organizations during my time in high school. It helped me develop different tools and skills that will be useful for the future. I have been involved in FFA all four years that I have been in High School. I love being in FFA because I love being a part of group activities and being involved in things.
I am planning on attending Northeastern Junior College in Sterling, Colorado. As of right now I plan on majoring in Early Childhood Education, I plan on graduating from NJC and transferring to Colorado State University to continue my education and studies there.
I would like to thank the dairy farmers for allowing me the opportunity to receive this scholarship. I feel truly honored to have been able to apply for it. I had a blast making the bulletin board and I don't think I can thank them enough!
Runner Up: Colton C.
I wanted to apply for the Colorado Spirit Award for a few reasons. For one, I'm very involved with athletics in my school with playing football, basketball, and track. The other reason is, I'm going to be an agriculture business management major, and I thought this would fit with the dairymen.
The thing I'm most proud of in my high school career is making the All-State football team. My agriculture activities come through 4-H and FFA.  In 4-H I've shown market goats and I'm a nine year member of the leather crafting group.  In FFA, I've shown Market and Breeding Beef. I love the cattle industry so much, that I have worked to own my own herd.
I'm going to college at Lamar Community College, to earn my Associate's Degree in Agriculture Business Management. After 2 years I plan on transferring to West Texas A&M University to earn my Bachelors in the same field.
I'm very grateful to the Dairy Association for making this scholarship available.  I want to thank you guys. Your support will go to good use and is helping to make it possible for me to go to college.
Runner Up: Colby M.
I wanted to apply for the Award because I live in a rural area surrounded by dairies and am also involved in many CHSAA sanctioned activities including track and volleyball. I am most proud of winning the National Western Stock Show horse judging competition as a junior in high school. I am involved in 4-H, and it is a huge part of my life! I raise and show horses through the project along with judging horses. Both of these activities have had such an integral part in the formation of my character teaching me responsibility, time management, people skills, and speaking skills.
I am going to Colorado State University to major in Biomedical Sciences. I have so much gratitude to the dairy farmers who funded this scholarship. I am planning on becoming a surgeon so I will be in school for a long time. Every scholarship that I receive will help me to pay for, and reach my goal. Thank you all so much!
Runner Up: Payton S.
My counselor gave the scholarship application to me. She said the top two leaders from each class had a chance to apply. I'm proud of everything I have accomplished and everything I have been a part of during high school. All of the activities I have been involved are going to help shape my future!
I have grown up with agriculture all around me; living on a ranch and being a part of FFA and 4-H. Ag has helped shape me into the person I am today.
I'm going to go to Northeastern Junior College for two years and then transfer to a four year school. I want to major in ag education with a minor in business.
I just want to say thank you for your support and thank you for funding the scholarship and helping to further my education.