Convoy Gets Milk Where It's Most Needed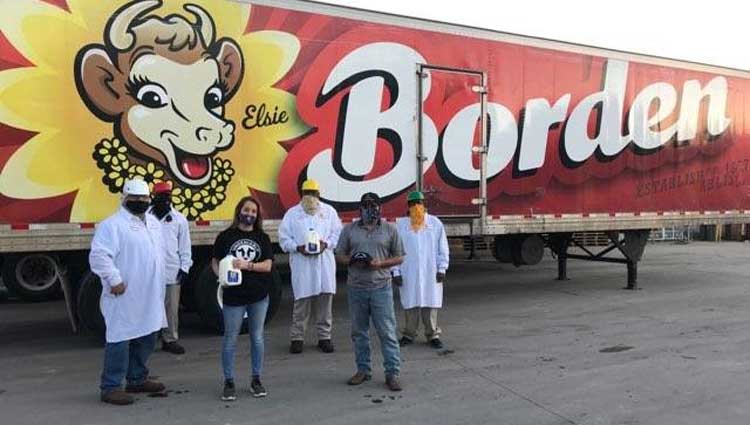 Food banks are always in need of milk – it's the most requested, least donated product year-round. These days, with 2 and even 3 times as many people using food bank services, the need for milk has only grown. That's why we were thrilled to work with Convoy to help get milk delivered to a local food bank.
Because of the COVID-19 crisis, Convoy decided to step up and offer free transportation for truckloads of food being donated to food banks. They are taking care of the cost of the driver and gas in order to support the efforts of folks who are working to help feed their communities.
"This effort leverages the scale and reliability of Convoy's core business, moving millions of truckloads of goods across the country for businesses of all sizes," said Jennifer Wong, head of sustainability at Convoy, a digital freight network. "We're putting the call out to any and all companies with goods to donate people impacted by COVID-19. We've assembled a cross functional team and have a rich network of carriers to make donating relief goods as easy as sending us an email."
Dairy MAX began the Convoy partnership by leveraging them to transport a truckload of 300 gallons of milk donated by Borden Dairy to the North Texas Food Bank. Not only did they transport the milk, but they kept the refrigerated truck on-site so that the milk stayed cold and safe until every last gallon had a home.
"Convoy's ability to step in quickly and transport 300 gallons of milk helped to feed over 1,400 people who came to the North Texas Food bank's mobile site that day," said Mike Konkle, Dairy MAX CEO. "We are so thankful for partners like Convoy and Borden who come together to serve the community."
Following the initial delivery in Dallas, Convoy again stepped in to deliver milk from Borden—this time to Houston Food Bank, the largest food bank in the country.
To date, more than 56,140 gallons of milk have been delivered to mass distribution sites through the North Texas Food Bank, the Houston Food Bank and the Southeast Texas Food Bank.
Convoy has also helped deliver macaroni and cheese with Land O'Lakes in Michigan. They also recently expanded this program to include donations of any type of goods.
If you have a truckload of goods of any kind to donate, you can reach out to Convoy at sustainability@convoy.com!