Dairy Amazing Symposium - Recognizing and Incorporating the Foodie Phenomenon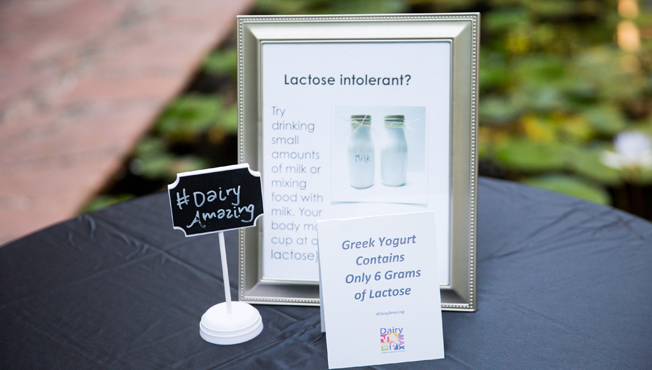 Dairy MAX is passionate about representing more than 900 dairy farm families across Texas, Oklahoma, New Mexico and Southwest Kansas. One of the principal goals of the local dairy council is increasing the demand for dairy, including milk, cheese and yogurt. Sara Robbins, Director of Health and Wellness for Dairy MAX, says that's why connecting with consumers across multiple levels is so important.
"Dairy MAX has concentrated efforts involving three main program areas; school education, health and wellness, and of course dairy farming," Robbins says. "Health and wellness is experiencing tremendous growth potential because of the increasingly popular foodie phenomenon. People love learning and talking about food, and Dairy MAX fits perfectly into that movement."
According to the National Association for the Specialty Food Trade's (NASFT) consumer trend report, 76 percent of U.S. adults enjoy talking about new and interesting foods; 70 percent consider themselves knowledgeable about food; and 53 percent regularly watch cooking shows. Keeping those consumer trends in mind, Dairy MAX's Health and Wellness team is driving outreach efforts aimed at fun and educational interactive "foodie" sessions.
"One of the brand new Health and Wellness program areas included the Dairy Amazing Symposium," Robbins says. "The event offered expert guest speakers, interactive cooking segments and personal messaging from a local dairy farmer."
The inaugural Dairy Amazing Symposium was hosted November 13 -14 at the Culinary Institute of America in San Antonio. The main goal was to educate health professionals about the advantages of dairy foods as part of a healthy diet over milk alternatives.
"The Dairy Amazing Symposium had a fantastic turnout," Robbins says. "Attendees included physicians, dietitians, academia and research faculty, public health professionals, and a dentist. All of these professionals can now share their new knowledge about the benefits of consuming three servings of dairy a day with their clients."
Guest speakers included Jim Painter, RD and Ph.D. who spoke about choosing real cow's milk over dairy alternatives; Erin Fitzgerald Sexson with the Innovation Center for U.S. Dairy who presented on global sustainability; and local dairy farmer Russell Boening who addressed the group by sharing pictures and the story of his family's dairy.
"Dr. Painter drove home the nutrition benefits of milk, including the three ingredients found in milk (milk, Vitamin A and Vitamin D), the 8 grams of protein per serving, that milk is a natural product, the economic value of choosing milk, and it just tastes good" Robbins says. "Sexson, who was recently honored as a White House Champion of Change for Sustainable and Climate-Smart Agriculture, included practical tips to help health professionals educate patients on reducing their carbon footprint by reducing food waste. Finally, it was a special treat for current Texas Farm Bureau President and dairy farmer, Boening, to spend time with the Dairy Amazing group. He told the story of how his father started their operation in the 1950's and also directly answered questions from the group, which happened to address some of the most common consumer concerns facing the dairy industry today." 
In additional to the wealth of useful information presented at the Dairy Amazing Symposium, the group also enjoyed some interactive cooking time. Attendees worked together to make recipes from dairydiscoveryzone.com and DMI's website, dairy.org.
"The interactive cooking segment was really a hit," Robbins says. "Everyone rolled up their sleeves, got involved, and hopefully learned something new and useful they can practice at home and share with clients and friends. Our first Dairy Amazing Symposium was truly a success."